On 1 October, Sovereign Housing Association and Network Homes came together as SNG (Sovereign Network Group). As one organisation we can invest more into building more new homes, maintaining existing homes and providing services to customers.
This website still contains all the key information for Sovereign customers or visit www.sng.org.uk to find out more about the new organisation.
We are a leading housing association, striving to provide quality, affordable homes in happy, successful places. We have deep roots in the south of England, with over 60,000 homes in the south, south west and the Isle of Wight - and 84,000 in total across SNG with the addition of homes in London and Hertfordshire following our merger.
We're driven by our social purpose, with customers at the heart of everything we do. We build homes and provide great services, but our work doesn't stop at the front door – we invest for the long-term, creating great places to live, working with customers and partners to support them in realising their potential. Read more about who we are.
While our registered office is in Basingstoke, Hampshire, we have a network of regional offices throughout our operating area. As part of our pledge to customers, we're also moving to a better way of doing things so that we can provide quality local services that are really easy to use, accessible and delivered right first time, every time by people who care.
Our centralised Customer Service Management Centre works alongside 10 locally-based teams:
Oxford
Newbury & Reading
North Hampshire & Surrey
South Hampshire
Isle of Wight
Bournemouth, Christchurch & Poole (BCP)
Dorset
Devon
Bristol & Gloucester
Wiltshire
They proactively manage the customers, homes and places in their area - offering support to individuals as well as working with communities and local partners. Both these elements are supported by a variety of specialist roles.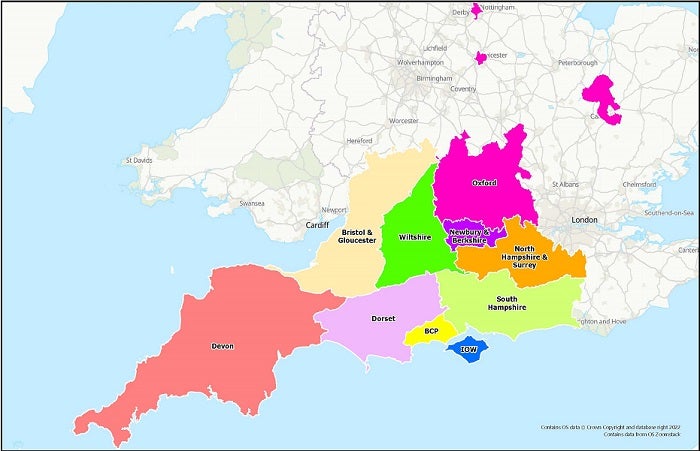 Download a copy of the Sovereign localities map
Where we have homes
Explore our interactive map which shows our properties by tenure, across local authorities. Just click on an area of the map to find out more. Alternatively, you can find the information in the table below the map.
| Local authority | Social rented | Shared ownership | Non-social | Keyworker social | Leasehold/freehold | Other | Total |
| --- | --- | --- | --- | --- | --- | --- | --- |
| Basingstoke & Deane | 5,409 | 471 | 76 | 8 | 381 | 3 | 6,348 |
| Bath & NE Somerset | 259 | 69 | 9 | 0 | 11 | 0 | 348 |
| Bournemouth, Christchurch & Poole | 4,753 | 556 | 93 | 259 | 470 | 2 | 6,133 |
| Bracknell Forest | 56 | 12 | 30 | 0 | 0 | 0 | 98 |
| Bristol | 963 | 406 | 177 | 0 | 169 | 0 | 1,715 |
| Cheltenham | 155 | 7 | 30 | 108 | 1 | 0 | 301 |
| Cherwell | 152 | 28 | 0 | 0 | 9 | 1 | 190 |
| Cornwall | 0 | 28 | 0 | 0 | 0 | 0 | 28 |
| Cotswold | 362 | 66 | 0 | 0 | 35 | 0 | 463 |
| Dorset | 4,141 | 327 | 14 | 0 | 289 | 129 | 4,900 |
| East Devon | 486 | 146 | 1 | 0 | 4 | 0 | 637 |
| East Hampshire | 655 | 135 | 0 | 0 | 20 | 1 | 811 |
| Eastleigh | 48 | 9 | 13 | 0 | 0 | 1 | 71 |
| Exeter | 897 | 171 | 3 | 0 | 50 | 0 | 1,121 |
| Forest of Dean | 2 | 0 | 0 | 0 | 0 | 0 | 2 |
| Gloucester | 114 | 18 | 6 | 128 | 0 | 0 | 266 |
| Guildford | 0 | 13 | 0 | 0 | 0 | 0 | 13 |
| Hart | 246 | 71 | 0 | 0 | 60 | 0 | 376 |
| Isle of Wight | 3,335 | 140 | 2 | 139 | 84 | 6 | 3,706 |
| Mendip | 0 | 5 | 0 | 0 | 0 | 0 | 5 |
| Mid Devon | 239 | 70 | 2 | 0 | 18 | 0 | 329 |
| New Forest | 1,741 | 134 | 11 | 0 | 100 | 10 | 1,996 |
| North Somerset | 176 | 21 | 0 | 0 | 42 | 3 | 242 |
| Oxford | 34 | 16 | 34 | 0 | 0 | 0 | 84 |
| Plymouth | 1,269 | 231 | 15 | 0 | 53 | 3 | 1,571 |
| Portsmouth | 0 | 4 | 0 | 0 | 0 | 0 | 4 |
| Reading | 240 | 28 | 38 | 351 | 4 | 0 | 661 |
| Rushmoor | 2 | 0 | 0 | 0 | 0 | 0 | 2 |
| Sedgemoor | 0 | 49 | 0 | 0 | 0 | 0 | 49 |
| Somerset West & Taunton | 0 | 54 | 0 | 0 | 0 | 0 | 54 |
| Southampton | 751 | 74 | 3 | 0 | 10 | 3 | 841 |
| South Gloucestershire | 1,290 | 397 | 28 | 0 | 27 | 28 | 1,770 |
| South Hams | 198 | 47 | 1 | 0 | 29 | 1 | 276 |
| South Oxfordshire | 669 | 179 | 0 | 0 | 6 | 0 | 854 |
| South Somerset | 0 | 7 | 0 | 88 | 0 | 0 | 95 |
| Stroud | 185 | 107 | 0 | 0 | 2 | 10 | 304 |
| Surrey Heath | 0 | 1 | 0 | 0 | 0 | 0 | 1 |
| Swindon | 1,193 | 373 | 15 | 0 | 35 | 0 | 1,616 |
| Teignbridge | 243 | 121 | 1 | 0 | 1 | 7 | 373 |
| Test Valley | 1,040 | 205 | 0 | 0 | 18 | 2 | 1,265 |
| Torbay | 335 | 71 | 20 | 68 | 11 | 0 | 505 |
| Torridge | 0 | 14 | 0 | 0 | 0 | 0 | 14 |
| Vale of White Horse | 5,990 | 284 | 0 | 0 | 190 | 7 | 6,471 |
| Waverley | 0 | 3 | 0 | 0 | 0 | 0 | 3 |
| West Berkshire | 7,031 | 450 | 97 | 0 | 220 | 10 | 7,808 |
| West Devon | 44 | 4 | 0 | 0 | 0 | 0 | 48 |
| West Oxfordshire | 624 | 268 | 0 | 0 | 10 | 4 | 906 |
| Wiltshire | 1,729 | 372 | 22 | 0 | 83 | 0 | 2,206 |
| Winchester | 319 | 70 | 1 | 0 | 37 | 0 | 427 |
| Windsor & Maidenhead | 18 | 0 | 0 | 0 | 0 | 0 | 18 |
| Wokingham | 289 | 213 | 0 | 0 | 6 | 0 | 508 |
| Wycombe | 0 | 0 | 0 | 0 | 0 | 3 | 3 |