Merger with Network Homes
We're now known as SNG (Sovereign Network Group), having merged with Network Homes on 1 October 2023.
The merger doesn't affect your right to live in your home and you have the same lease or tenancy agreement. Initially you'll notice little difference: you'll still be dealing with the same teams as you do now and contact us in the same way to access services, make a payment or request a repair.
Longer-term, merging will let us do more for all our customers. As one organisation we can invest more into existing homes, services, local communities and building more homes.
Working locally
Our Locality Officers have received extra training to make sure they have the skills and knowledge to do the best in their roles. The teams spend lots of time in our communities and they've been inviting some customers to locality consultations, so we can get people's views on opportunities and issues within their area.
In Wantage, we invited customers to give their thoughts on a proposed play park on the local green. Similarly, in Southampton, we asked households to get involved in creating an action plan of improvements for local outside spaces.
And we're pleased to see that customer satisfaction has increased this quarter around our 'Positive contribution to neighbourhoods' Tenant Satisfaction Measure (TSM).
How our teams are making a difference
Watch the video below to find out how our teams are making a difference to customers.
Employment and skills make a difference
"Thank you a trillion for rewording and fixing my supporting statement. I truly appreciate your hard work and support and I'm applying for the position right away."
Life-changing support
Our Customer Income Advisors helped one customer appeal an unsuccessful application for Disability Living Allowance (DLA). They attended the tribunal together and the customer was awarded £68.10 DLA a week, with £4,300 backdated.
Fantastic customer feedback
"I've had a new kitchen and bathroom and wanted to say how amazing it looks. The men on the job are a credit to you, always so polite and cheerful."
We listen
After feedback from our customers, our Dorset Localities team built two new parking spaces at a housing for older people scheme, making an instant difference.
Our Q2 highlights
Watch the video below to find out some of our Q2 highlights.
Gave 722 customers keys to their new home
Answered customer calls within 28 seconds on average
Saved customers £157k through our Financial Inclusion service
Supported 492 customers with Universal Credit claims
Fitted 186 new kitchens and 139 new bathrooms
Replaced 599 boilers
Helped 71 people in fuel poverty
Supported 53 community organisations
Other key activities this quarter
We were Highly Commended in the 'Safety and compliance initiative of the year' award by the Association of Safety Compliance Professionals (ASCP).
We had nearly 1,700 engagements from young people who have directly taken part in our Sovereign #iwill Fund youth social action projects. We have also just launched our latest #iwill grants programme.
Thanks to negotiations with our boiler suppliers, we've saved £260k since the beginning of the year. These savings mean we can upgrade more boilers sooner than planned, benefitting an extra 70 homes.
We distributed £8,255 of funding to support local organisations to deliver summer activities and food programmes for families, children and young people. This programme really helped to relieve some of the pressure points that families faced during the summer.
We gave 13 projects a grant of £500 each to support a range of environmental projects. This included recycling programmes, litter picking and "swap" sessions for unwanted goods.
How we're performing
Members of our Resident and Board Partnership and Scrutiny Coordination Group had an amazing day at the TPAS National Tenant Conference 2023.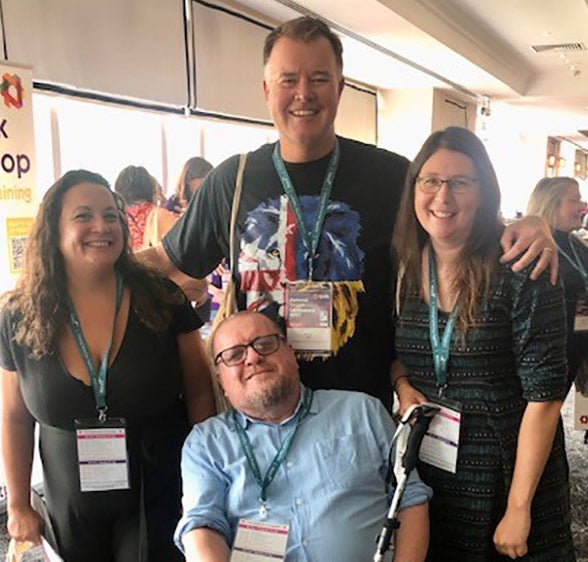 They were ensuring customers' voices are heard, discussing how best landlords should engage with customers and offer the best services possible for all.
Our Scrutiny Coordination Group has finalised its damp and mould scrutiny report. The group found a number of areas that we do really well in. This includes our financial inclusion support, the advice sent out to residents on how to deal with damp and mould, and the ease of reporting issues.
They also made a number of recommendations for improvements, many of which will be implemented over the coming months, and will improve services for all customers who are reporting damp and mould.
They have just begun the start of their next scrutiny which will look at we temporarily re-home customers in the case of an emergency.
In quarter two, our Customer Service team continued to improve how quickly they respond when you get in touch via all our different channels.
Answering phone calls: 28 seconds vs 2 minute target
Answering emails: 17hrs 34 mins vs 48 hours target
Responding to social media messages: 48 minutes vs 1 hour target
Responding to webchat: 15 seconds (no target as it's a new channel)
In our post-call customer surveys we also received an average of 4.21 out of 5 from customers vs our target of a minimum 4 out of 5.
Within Communities, we focus on these five key areas: community investment, employment and skills, digital and financial inclusion, social value and funding and partnerships.
Here are some key highlights from quarter two:
Helping 94 people into work or better work
Supporting 22 customers with business start ups and self-employment
Saving customers over £157k through our Financial Inclusion service
Helping 71 people in fuel poverty
Supporting 53 community organisations
Engaging with 8,500 people within our communities
Running seven ageing well programmes and eight health and wellbeing initiatives
Securing over £320k in external funding
We are working towards rating all of our neighbourhoods (over 10,000). These ratings will help us decide how frequently our teams should visit them.
We investigate suspected tenancy fraud. This year, we have handled 256 cases, with subletting being the highest category.
We have handled 5,753 anti-social behaviour cases since the start of the year, with noise being the most reported category (circa 1,900 cases).
This year, we've worked on 226 domestic abuse cases, with our response time being 99.6% in line with our service level agreement.
648 safeguarding cases have been created in the last 12 months, with 623 closed. 532 cases have related to adult safeguarding concerns and 116 to children.
Between July and September 2023:
We completed 342 homes, 306 of which were affordable.
130 Shared Ownership homes were sold, with an average equity of 42%.
We completed 518 re-lets and 204 new lets.
We completed 190 mutual exchanges.
Between July and September 2023:
Our Tenancy Support Advisors took 643 referrals.
They also closed 597 cases, with 481 (80.57%) engaging with the service and working with us to maximise their income and improve their financial resilience.
We supported 492 customers with their Universal Credit claims.
We referred 49 customers to local money partners to support them with debt advice and explore their options.
Between July and September 2023:
52,000 responsive repairs were raised with 13,000 of these being emergency repairs.
We replaced 599 boilers.
We installed 186 new kitchens and 139 new bathrooms.
188 homes had new windows, 323 had new doors and 150 homes had new roofs.
We fully rewired 34 properties.
We completed 26 low carbon electric full heating upgrades.
We upgraded 170 fuseboards.
Turning things around
We know we don't always get things right. But the video below illustrates how we try to correct things if that happens.
Despite our best efforts, we know we don't always get things right. But, when things go wrong we do everything we can to regain trust and do the right thing for our customers.
We received this feedback from a customer, complimenting one our Property Customer Specialists:
"I was totally overwhelmed by the customer service I received to deal with my problem. Nothing was too much trouble for this lady helping me, she certainly went above and beyond to deal with my issues and definitely went the extra mile to make sure everything was sorted. I have never received such an excellent customer service before and I am truly grateful."
Our news
We publish news stories throughout the year.  In quarter 2, we released 11 stories - you can read them on our News page. From October 2023, you can catch up on all our news on the SNG website
.