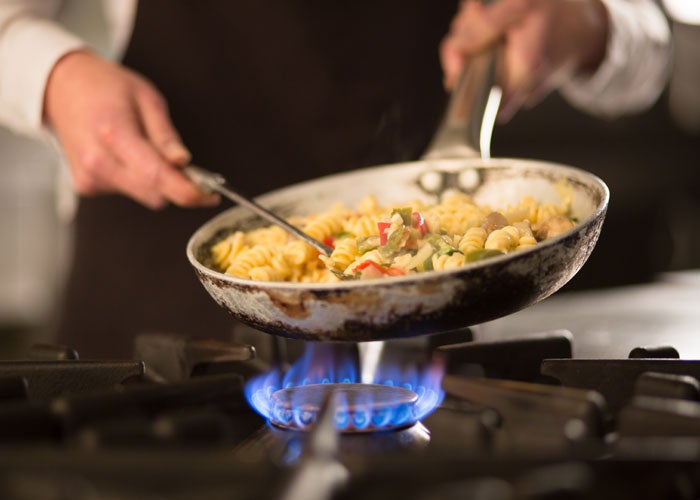 Virtual cooking club provides a year of square meals for Bristol families
As many as 60 families could benefit over the next year from free food kits and an online cookery course being run by Bristol's cookery school, Square Food Foundation and Sovereign Housing Association.
Daisy Mummery, Community Development Officer for Sovereign, said: "These sessions will go live on 2nd December, with Sovereign residents in Bristol able to sign up now for the first six weeks' worth of food boxes – providing them with a delicious family dinner each week on 2nd, 9th, 16th December and 6th, 13th and 20th January.
"There are ten kits available each week, and anyone who misses out on the first six weeks' worth of food boxes will be put on a priority list for next term."
Those who sign up will need to collect their weekly cooking kit from Inns Court Community Centre (1 Marshall Walk, Bristol BS4 1TR), on a Tuesday, between 1 and 3pm.
Bristol-based Sovereign residents can sign up for sessions and the free food kits starting on 2nd December by emailing daisy.mummery@sovereign.org.uk
.
The organisations are working together to provide free weekly DIY meal kits to Sovereign residents for the whole 2021-22 academic year. The packs include pre-weighed and measured ingredients, a recipe and a cook-along video tutorial presented by a cookery teacher, and enticing recipes include Singapore noodles, mac n cheese, black bean quesadillas, pancakes with leeks and ham and vegetable pasties.
The course is running thanks to £5,000 funding from Sovereign's Your Community Your Choice project, which is currently open for more applications, and provides funding for projects that improve outdoor spaces in Sovereign communities.
Daisy continued: "Having the time and energy to think up new dinners is often exhausting for busy parents, with fresh ingredients seeming more pricey or inaccessible than processed foods. This course not only provides a great way for families to spend time together, but could also ignite a passion for good food and cooking in budding junior chefs."
Charlotte Fife, one of Square Food Foundation's cooking teachers said: "Square Food's virtual cooking club was born during lockdown as a way to keep families making proper square meals while they were stuck at home. We can't wait to make the virtual cooking club available to Sovereign's residents."
To learn more about the work Square Food Foundation go to www.squarefoodfoundation.co.uk.