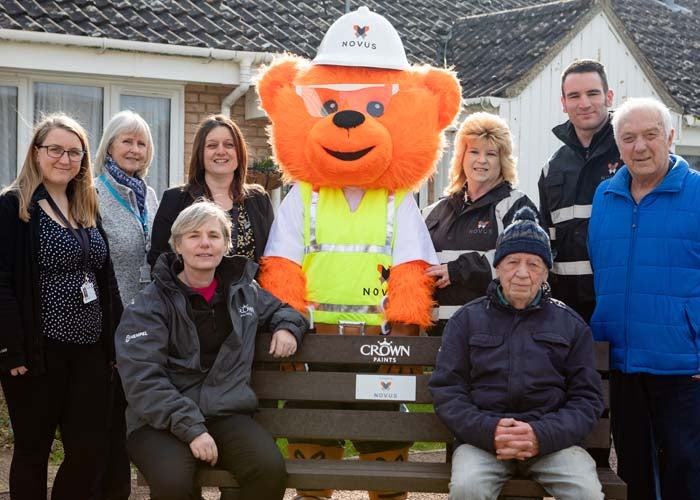 Swindon residents enjoy bench with quirky origin
Novus Property Solutions, which has carried out redecorations for leading housing association Sovereign for ten years, has donated a bench, made out of recycled paint cans, to Sovereign's residents living in Barrington Road, Watchfield.
The bench, given to Novus by its paint supplier Crown Paints, which has a 'Can Back scheme' that allows paint tins to be recycled, was unveiled in a small ceremony attended by residents, Crown Paints, Sovereign and Novus.
One resident said: "Many thanks to Crown, Novus and Sovereign for a most welcomed gift – the bench will be much enjoyed."
Fi Lyne, our Delivery Manager for Contracts, said: "We are very grateful to Novus and Crown for donating this lovely bench for our residents to enjoy.
"Sovereign and Novus are always looking at ways in which we can work in an environmentally friendly way. Novus also regularly supports our customers by donating items, hosting events such as craft and career days, and has even delivered Easter eggs!"
Dave Larner, Senior Contracts Manager at Novus, added: "Novus Property Solutions works in partnership with Sovereign Housing Association across the South improving their homes, and as part of this contract we are committed to playing our part in supporting the wider community.
"This bench donation is one example of the numerous projects we undertake each year, and we hope this improved community area will provide a place for residents to sit down, meet or relax, as I think we have all realised how important health and wellbeing are during these challenging times."
Glen Cooper, Specification Technical Manager for Crown Paints, said: "We have always been proud that our recycled plastic benches are a physical representation of our commitment to sustainability that people can actually use.
"Placing the bench in a communal garden also adds the dimension of wellbeing into the environmental mix. The benches have a lifespan far in excess of a traditional timber product and we hope many people will use it to enjoy being in the fresh air for decades to come."
For other environmental-related action in Sovereign's communities, please visit www.sovereign.org.uk/advice-and-guides/my-community
Notes for editors
About Crown Paints
With a heritage dating back to 1777, at Crown we've been making paint for longer than most. So you can bet that every tin is crafted with over 200 years of knowledge, experience and passion. Our head offices are based in Darwen, Lancashire, which we're proud to say is the same town in which we started all those years ago. Today, we also have a manufacturing site in Hull and an ever growing network of over 175 Crown Decorating Centre's located throughout the UK and Ireland.
Crown Paints proudly holds the Royal Warrant. First awarded to us in 1949 as supplier to King George VI, the warrant has since been renewed by Queen Elizabeth II. Our professional finishes, notably Crown Trade, Sandtex Trade and Sadolin are specified for some of the most prestigious buildings in the British Isles, whilst our household names brands, such as Crown have found favour with several generations of home owners.
Crown Paints are now part of the Hempel Group of which The Hempel Foundation is the sole shareholder. This is a corporate foundation that supports good causes around the globe, with specific focus on education of children in need, research into sustainable coatings technology and protecting the planet's biodiversity.
15.4 Million Euros donated in 2020
280,000 Children to benefit from our past and current education projects since 2010
1,700,000 hectares of key Biodiversity areas in conservation programmes
1st March 2022 1 Million Euros donated to the Ukraine relief support charities
About Novus Property Solutions
Novus Property Solutions was incorporated in 2013 following a restructuring of Seddon Property Services Ltd, a division of the Seddon group formed in 1897. Today, the company operates as an independent trading entity but still under the ownership of the Seddon family. The £160m+ business is a leading specialist in planned property maintenance, building refurbishment, compliance, and decarbonisation services. The business operates under five dedicated service offerings – Interiors, Maintain, Assure, Projects and Sustain. It has strong experience in the social housing, education, healthcare, and retirement, industrial, commercial, leisure, retail, and residential sectors. The business has 20 offices throughout Great Britain spanning from Scotland to the South coast.
For further information visit www.novussolutions.co.uk