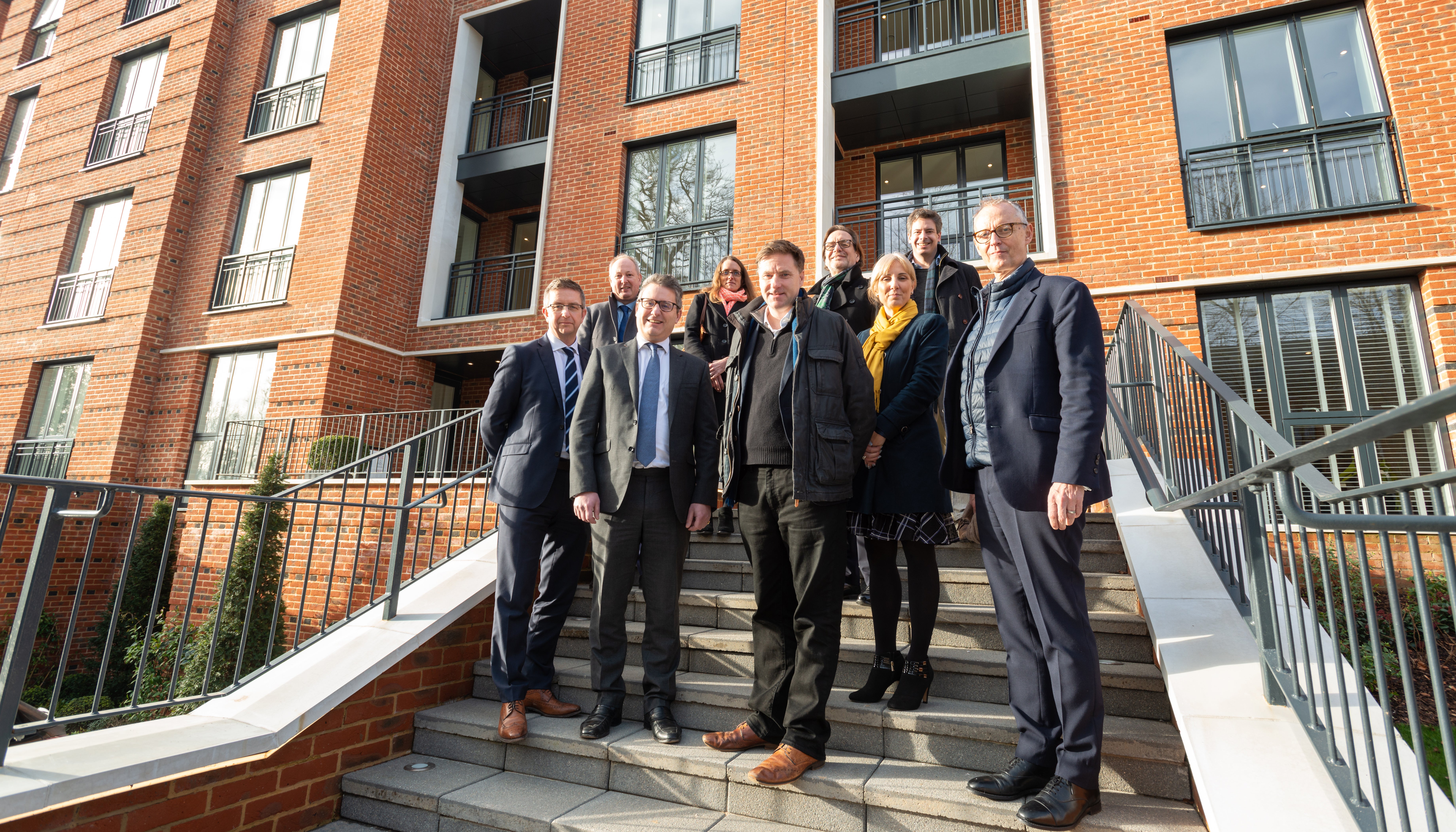 Steve Brine, MP, visits Sovereign's affordable homes at Knights Quarter, Winchester
Steve Brine, MP for Winchester and Chandlers Ford, met with Mark Washer, Sovereign CEO, and Harry Lewis, Berkeley Southern Managing Director, at their Knights Quarter development in Winchester city on Friday.
Sovereign Housing Association invited Steve Brine, MP, to visit their new quality affordable homes in the city. An innovative regeneration of the disused former Hampshire police headquarters, the Knights Quarter development recently opened their shared ownership show home to a waiting list of viewers.
Often voted one of the best places to live in the country, demand for affordable homes in the city is high. However, Winchester remains prohibitively expensive for a lot of people, with an average house price of £447,808 – £213,808 above the national average of £264,000. Local prices also increased 11% in the last year, further pushing up demand for affordable homes.
Sovereign is working with developers Berkeley to bring 97 stylish, affordable homes to Winchester, available for affordable rent and shared ownership, as part of this 244 home development.

Mark Washer, CEO, Sovereign, said:
'Winchester is a great location for our homes, building affordable housing where it's needed most. We're proud to be able to build the right homes in the right places, and I'm looking forward to seeing residents enjoying their new homes soon.'
Harry Lewis, Berkeley Southern Managing Director, said:
'We have a longstanding relationship with Sovereign and are delighted to deliver high quality, tenure blind affordable homes for local people at this fantastic city centre site.'
Steve Brine, MP, said:
'We've all glimpsed this large development taking shape behind the hoardings on Romsey Road, so it was good to take a proper look at some of the finished properties and hear what comes next. Affordable is always such a subjective term when it comes to homes in Winchester, so I was interested to hear about the housing mix on this site and the level of local interest already being shown.'
Residents will be moving into their new homes at Knights Quarter around spring 2022.