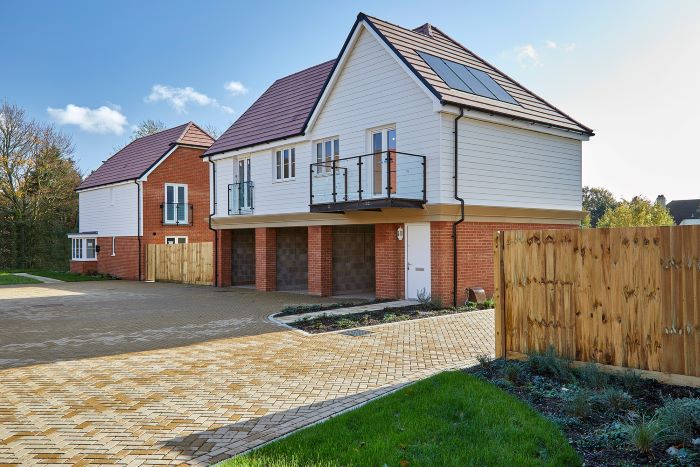 Sovereign seeks more land for affordable housing as first Sussex homes complete
Leading housing association Sovereign is celebrating the completion of phase one of its £7.4m Eastergate Park development in West Sussex, as it seeks new land for affordable homes.
Eastergate Park is the housing association's first land-led development scheme in West Sussex and is an example of Sovereign's ambition to create more affordable homes to its own quality standards - without relying on Section 106 homes built as part of private developments. The development was built in partnership with Hampshire Homes.
Demand for the 42 completed homes, which range from one-bed flats to four-bedroom houses, has been very high with most already reserved. 22 homes were available for shared ownership and the remaining 20 available for affordable rent, creating a diverse and sustainable community of people.
Using grant funding from Homes England, every home on the development benefits from its prime location – situated at the foothills of the South Downs National Park.
Liz Evans, Sovereign's Project Manager for the development said: "These new homes are part of our strategy to develop more affordable and sustainable homes ourselves to the high standards our customers demand. By working closely with Hampshire Homes and Arun Council, we've been able to help more people move into an affordable home in an area where many families are struggling to find a good place to live.
"While we are celebrating today, we know that there are thousands more people in Sussex and beyond who need homes like these. We want to work with like-minded partners so more people can enjoy a good, affordable, home. We have a great record of delivery and our message is simple – if you have land suitable for development, particularly in or near our core areas of Hampshire, Berkshire and Oxfordshire, we want to hear from you."
Tom Wallace, Construction Director at Hampshire Homes said: "Hampshire Homes assisted Sovereign in the acquiring of the development, the scheme benefitted from a full planning permission which enabled Sovereign to move quickly and for us to start. The scheme has gone from strength to strength with the strong relationships between Hampshire Homes and Sovereign making decisions quickly and enabling steady progress for delivery."
Set across a quiet and attractive network of residential streets, every home benefits from generous open plan living in a variety of layouts. The development includes a mix of green infrastructure and public open space for recreation.
The Homes at Eastergate are all built to Sovereign's Homes and Place Standard which was co-created with the housing association's customers and holds it to high standards for quality and sustainability. The homes will be low-cost to run, and each home comes equipped with EV charging points. New residents will also be able to access Sovereign's extensive community and personal support investment and services.
Phase two of the development will see further homes built at Eastergate, with the site expected to fully complete in Summer 2024.
Sovereign has ambitious plans to build homes across the south of England. With over 8,400 homes in its pipeline, this latest development showcases the types of land-led schemes being delivered, as it reduces its reliance on Section 106.
Land agents and developers with further development opportunities in the region should contact: development_south_and_east_new_business@sovereign.org.uk.