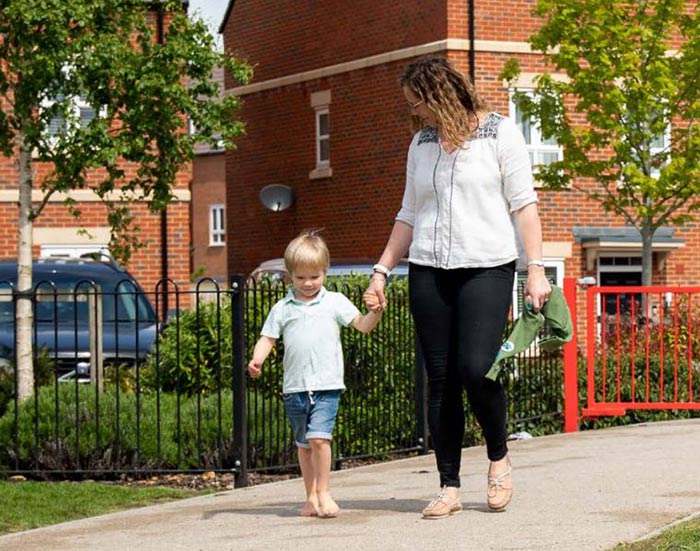 "Climate change matters, but don't leave me feeling cold" say Sovereign tenants
Sovereign Housing has today published new research showing that social housing tenants do not realise the impact that their homes have on climate change. Although most tenants recognise that action is needed, few see the need to act now to limit the carbon footprint of their homes. In response, Sovereign will be increasing engagement with tenants as they embark on a major programme of strategic asset management to meet their net zero targets.
Social tenants who took part in the research recognise the need for action on climate change, although many were surprised to learn about the massive carbon footprint of the UK's housing stock. While some welcome the prospect of home improvements to reduce the impact of their home on the environment, others are sceptical that landlords will deliver for existing homes. There is a particular anxiety that taking homes off gas will leave them cold or unaffordable to run on electricity.
When it comes to their own properties, tenants want to limit upheaval and older tenants are reluctant to move out, even temporarily. Works to homes must be quality and homes put back as they were, after retrofitting.
Speaking at the event launch today Tom Titherington, Chief Investment and Development Officer said:
"I'm really encouraged by this – our customers' attitudes to climate change are the same as most of us: we've each got a part to play in reducing the impact we have on the planet so let's get on with it. But I am also really glad we have taken the time to really understand what people are thinking. We are about to embark on a major programme of development, retrofitting and replacement, and we are doing that with open eyes.
He went on to say:
"We haven't got to go out there and explain from scratch about why climate change matters and what that's got to do with oil and gas. But we have got to make the case to individual homeowners that changes to their home will make a difference. They rightly want to be reassured that their homes will be warmer and their bills lower before they are persuaded of anything else".
Sovereign will be setting out a detailed response to the research, commissioned from independent research providers Solutions.
Mark Washer, who spoke alongside the government minster Stephen Greenhalgh at tonight's research launch said:
"I am really pleased to be sharing with the wider housing sector a significant contribution to our understanding of the attitudes of our tenants to retrofitting. To the credit of environmentalists going back decades – and thanks to the efforts of governments of all parties in recent years – the need to act on climate change is widely understood. The small but worryingly vocal band of net-zero-sceptics will find no comfort in this research. But there is a big difference between wanting to do one's bit and having one's home turned upside down. And it's our job – the job of the whole sector – to make the individual case to tenants, home by home, customer by customer, why we must act, and act now.
Mark went on to say:
"Social housing providers are leading the way in the decarbonisation of the home. And in its commitment through our Homes and Place standard I believe that Sovereign can claim to be leading in the sector too. We want others to follow – and with the help of government – housing associations can play a major role in decarbonising millions of homes in our country. And by learning as we go, understanding what works and creating the workforce to deliver it we will be helping every homeowner in our country as well."
For more information about this research, please visit https://www.sovereign.org.uk/about-us/research/retrofit-for-the-future.