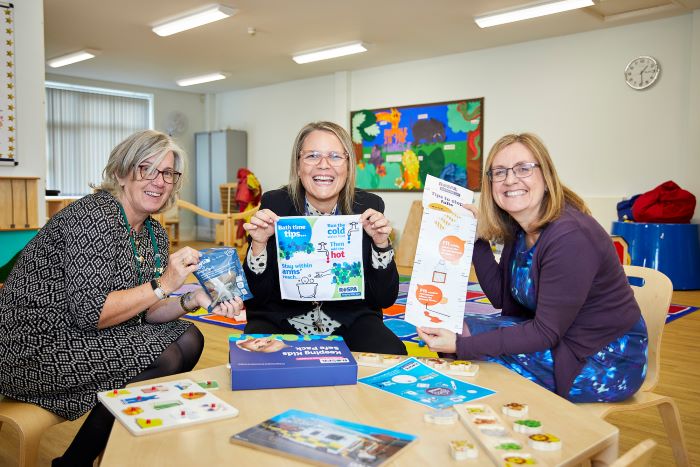 Sovereign safety partnership delivers for families
Sovereign has teamed up with the Royal Society for the Prevention of Accidents (RoSPA) to provide special free child safety packs to families in Berkshire, Hampshire and the Isle of Wight. The packs include useful items such as thermometers, height charts, and plenty of child safety tips.
In total, 500 packs have been shared via family centres and other local organisations that Sovereign works closely with.
One of the recipients was Nicole from Thatcham whose three-year old son, Theo, liked the drawings on the height chart which shares tips about safety on the stairs.
Nicole said: "I think the room thermometer will be useful for the bedroom, especially if we have the windows open."
Siobhan also received a pack for her baby son, Kailo. She added: "It's a really good idea as some people won't know a lot about safety, especially if they're a first-time parent."
And mum Jess said: "These will be amazing – especially the cupboard lock to keep medication safely away from my son Oskar."
Carol Delaney, Property Services Director at Sovereign, explained: "We want to help keep people as safe as possible in their homes and part of this involves making sure they're able to access the right safety information.
"We already provide a wealth of advice through our partnership with RoSPA. We share lots of their tips and resources on our website at http://www.sovereign.org.uk/safety-toolkit, alongside more specific fire and other safety information for our residents.
"Customer safety is vitally important to us and we're pleased to be building on our existing support and handing out these packs - which we hope parents will find useful."
Andrea Sims, RoSPA's Partnerships Manager, said: "More accidents happen in the home than anywhere else. Children under the age of five are among the most likely age group to end up in A&E because of a domestic accident.
"The Keeping Kids Safe project contributes towards the health and wellbeing of young children by providing families with the skills, equipment and knowledge needed to prevent accidents and injury in the home. To help prevent accidents to children around the home, I would encourage parents and carers to visit our Keeping Kids Safe information hub."