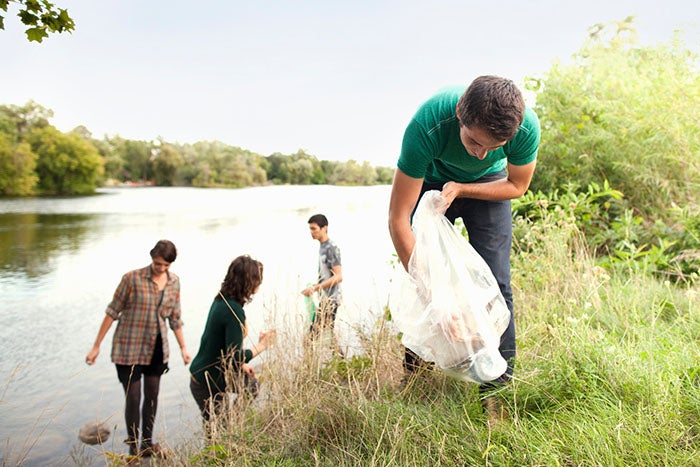 Residents invited to get involved and 'go green' on World Cleanup Day
As a landlord with a lasting stake in the communities we build, Sovereign is supporting events across our localities as part of World Cleanup Day this Saturday (16 September) and inviting the community to take part.
By participating in World Cleanup Day, people can become part of a collective force actively addressing litter and waste. It's a chance to roll up our sleeves, put on our gloves, and join hands in creating a cleaner, healthier planet for all.
There are locally-arranged activities across many of the areas where we have homes - including litter picking, waste removal, recycling promotion, stalls from sustainability companies, and much more.
Coordinated by Sovereign's 'Green Group' which looks at how the organisation can support sustainability, alongside its Community Investment Team, the events, which are funded by Sovereign with regional partners, are sure to draw in members from the local community.
Commenting on the events, Sovereign's Community Investment and Partnerships Manager Marta Rios said: "At Sovereign, we're clear and passionate advocates of the environment. Through our Homes and Place Standard, we're actively focusing on making all our homes and places sustainable, and supporting the people who live in them to take pride in where they live and drive lasting change.
"These events are just one of many things we're doing to help others look after the planet. I'd encourage anyone who is local to go along, get involved and find out more about how they can support sustainability in their community – on World Cleanup Day and beyond."
Hosted by the global organisation Let's Do It! - World Cleanup Day is an annual global social action program aimed at combating the global solid waste problem, including the problem of marine debris. It brings together millions of volunteers from over 190 countries to clean up litter and debris from our streets, parks, beaches, and waterways.
Here are all the venues, times and contact details for activities on Saturday 16 September and beyond.
Berkshire:
Litter picking with Katesgrove Community Association throughout September, October, November and December. On 16th September meet at the Katesgrove Underpass, next to Namaste (RG1 2ND) at 10:30am. On 21 October at 10:30am meet at Evans Cycles, Oracle roundabout (RG1 2HN). On 18 November meeting outside Greggs, Whitley Hill, RG2 0EJ at 10:30am. On 16 December meet at Elizabeth Walk (RG2 0AN) at 10:30am.
Litter picking with Thatcham Litter Pickers on 23 September between 10-11am. This will be held at Moorside Community Centre, Urquhart Road, Thatcham, RG19 4RE. By taking part you'll help to improve the appearance of the community, protect wildlife from harm and promote a sense of community.
Take part in a litter picking and sustainability event with Berkshire Youth at the Waterside Youth and Community Centre, Newbury, RG14 1DS on 30 September. Take part between 9am-12pm on 30 September and learn more about how to make your lifestyle more sustainable with information from local stalls.
Further litter picking events are scheduled in Reading with Pangbourne Parish Council throughout the year. Plus a further litter picking event is scheduled with Eight Bells for Mental Health for 15 September. Creative and sustainable art making sessions using litter will follow later in the month. Details of these events can be found by contacting the organisers respectively by emailing belkin@pangbourne-pc.gov.uk or coordinator@eightbellsnewbury.co.uk
Devon:
Litter pick on September 16th, 12-1pm, Merrivale Park Association, 37 Newman Road, Exeter, EX4 1PJ. Come along and get involved with a litter pick at a local park with more litter picks to come over the following months at Cowick Barton Playing Fields.
Dorset:
Help run waste collection sessions alongside Win on Waste on Saturday 16th September, 10:30-11:30am at St Nicholas' Church, Corfe Mullen, BH21 3LE. By reducing landfill waste and bringing along items such as clothing, old ink cartridges, and food packaging these items will go towards helping charities with their fundraising activities.
Swap unwanted items at the West Howe Community Enterprise 'Give and Take Day' being held at Henry Brown Youth Centre, Cunningham Cres, Bournemouth, BH11 8DU. Come along on Saturday 23 September between 1-3pm to swap your unwanted items and get great deals on items from others that you do want. If you have items to drop off, please do this between 12-1pm.
Take part in litter picking with Southbourne at the bandstand in Fisherman's Walk in Bournemouth on 16th September at 10:30am.
Gloucestershire:
Litter picking with Paganhill Community Group at The Octagon (formerly Baptist Church), Farmhill Lane, Stroud, GL5 4BX. Please note the date for this has now changed - and will be held on 23rd September between 2-4pm. Further activities are planned for the week commencing 25 September. Details can be obtained by emailing Viki@paganhill.org.uk.
Litter picking and help to clean up green debris such as leaves and branches with Woodhill Court Residents Group. This is taking place at Woodhill Road, Portishead, Bristol, BS20 7EQ between 10am-4pm on Saturday 16th September.
Litter picking with Carriageworks Community Residents Association from 10am on Saturday 16 September. Meet at the Carriageworks Courtyard, Bristol, BS1 3FU.
Litter picking and encouraging young people to take part in a recycling workshop with Baggator on Saturday 16th September at St Mark's Baptist Church, St Marks Road, Easton, Bristol, BS5 6HX. Further details on timing can be obtained by emailing office@baggator.com
Hampshire:
Litter pick and take part in initiatives to promote recycling with Basingstoke Multicultural Forum. Meet at Glebe Gardens on Saturday 16th September at Church Street, Basingstoke, RG21 7QT at 9am.
Take part in a litter pick with Basingstoke and Deane Council on Saturday 16th September between 10am-12pm. Meet at St Andrews Road (by the car park) South Ham, Basingstoke, RG22 6PT.
Contact Sovereign's Community Investment Team by emailing community.development@sovereign.org.uk for more information about the other projects.
Sovereign is looking for partners who share its commitment to the environment. Those who are passionate about opportunities to promote sustainability and who work in its communities should get in touch with Marta Rios, Community Investment and Partnerships Manager by emailing Marta.Rios@sovereign.org.uk to discuss future partnerships.