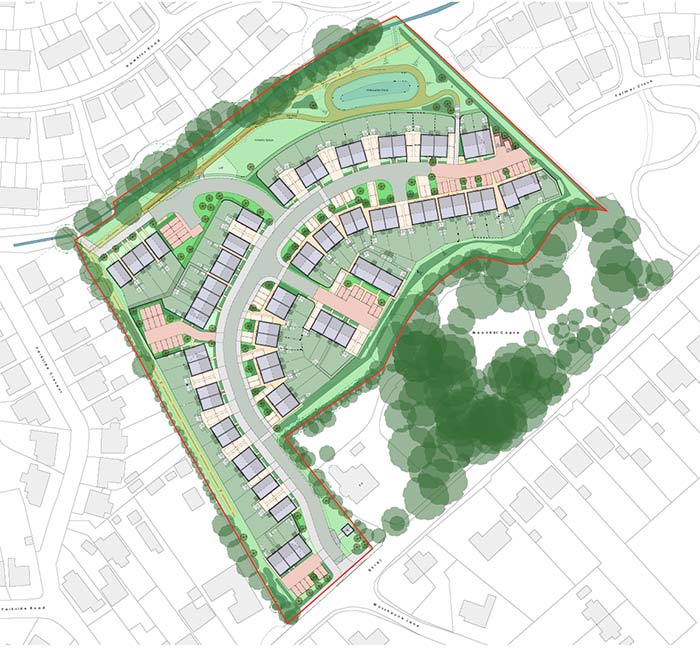 Reserved matters approval paves way for new home type in Devon
Sovereign has secured reserved matters planning approval for 69 affordable homes at Taverners Field on the edge of Exeter, Devon. It paves the way for the housing association to build the first homes using its range of new house types.
Detailed planning consent was received at the end of last year, and with work now able to start, contractors are expected to be on site shortly.
These mixed-tenure homes will be the first built to Sovereign's new house specification. By exceeding national space standards, incorporating increased storage, and promoting lots of natural daylight, the new design range goes further to support the health and wellbeing of future customers.
As well as being the first homes built to the new range, this is the first development using these house types to score 'very good' on Sovereign's Homes and Place Standard.
Working with residents to help them live well and reduce their impact on the environment sits at the heart of this unique Standard.
This underpins how it invests in all its homes and places, and marks Sovereign's commitment to build and maintain good quality homes and better places to live. While the housing provider has always striven for high standards across its developments, this sets out how it invests in its homes and how it builds new ones.
Comprising a timber frame with improved insulation, every home at the site will have its own air source heat pump and sustainable heating system. Homes will also benefit from the installation of photovoltaic solar panels making them more affordable to run, and helping to provide a simple pathway to net zero.
When completed, the homes will include a mix of one and two-bed maisonettes, bungalows and two-four bed houses. Homes at Taverners Field will be 100 per cent affordable – with 36 available for social rent, and the remaining 33 homes set for shared ownership.
The development includes a mix of green infrastructure and public open space, plus a play area for recreation.
The site is expected to be completed by summer 2026.
Sovereign is increasing the number of homes it builds. Using its land-led approach to delivery, this latest scheme showcases the range of developments already in the pipeline.
Savills planning, PAD Design, E G Carter & Co and a wider technical team developed the proposals. Homes England and Sovereign are providing funding for the site.
Isabel Keppel, Planning Manager at Sovereign said: "Receiving Reserved Matters approval is hugely encouraging, as it means we're one step closer to delivering the first homes to our new range of house types.
"This new range of house types really showcases our commitment to put the customer at the heart of everything we do. It also shows how we strive to design high-quality homes which exceed standards and norms, wherever possible.
"Projects like this also highlight our ability to deliver affordable and sustainable homes, at a time of real need."
Image courtesy of PAD Design Ltd.