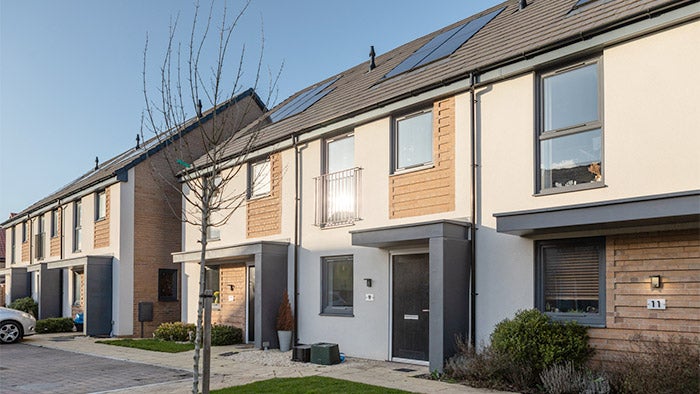 Sovereign Housing Association's Quarterly Performance Update covering the Financial year 2021/22
Full year update 31 March 2022 based on unaudited management accounts
During this busy and challenging year, we delivered increases in total Turnover and overall surplus. We also achieved an 8.8% increase in new homes delivered, across 69 different sites and 36 different developers. Sales performed well throughout the year, which is a reduction on last year due to availability of stock. In total there were 499 sales completions and a strong pipeline of reserved properties in the year ahead with no properties greater than 6 months. Our current development pipeline has increased strongly to 8,380 homes as we deliver our strategy of moving to land led.
Our unaudited management accounts for FY 2021/22 show:
Turnover was £422.6m (20/21: £417.6) +1.2%
Operating surplus was £132.7m (20/21: £136.3m) -2.6%
Overall surplus was £76.9m (20/21: £75.7m) +1.6%
New homes completions of 1,196 (20/21: 1,099) +8.8%
Current development pipeline of 8,380 homes (20/21: 5,169) +62.1%
499 sales completions (20/21: 545) -8.4%
Quarter 4 Performance Update
Our unaudited management accounts for Q4 2021/22 show operating surplus and overall surplus declining, as expected, as we continue to face headwinds of increased costs in the supply chain (Q3 £32.5m and £19.6m, Q4 £26.2m and £12.4m).
We have seen significant volatility and level of fluctuation in our Customer satisfaction score during the year, we are disappointed to see our Customer satisfaction falling from 79% to 69% in the latest quarterly survey. This is a key focus for us and we believe this satisfaction survey is being impacted as our customers face increasing uncertainty and anxiety with fuel and living costs rising and the onset of the Ukraine conflict. Whilst this is disappointing result for Sovereign and our Customers' we are working with them to support them during this difficult time. We continue to see good satisfaction with our repairs service, which is remaining stable at 87%.
The development programme has continued to be challenging due primarily to resource and material availability issues impacting the whole of the building sector, however we were able to add an additional 445 units during the past quarter, delivering a total of 1,196 units in total for the year.
Homes in management of 60,851
Turnover was £109m (Q3 21/22: £106m) +2.8%
Operating surplus was £26.2m (Q3 21/22: £32.5m) -19.4%
Overall surplus was £12.4m (Q3 21/22: £19.6m) -36.7%
141 sales completions (Q3 21/22: 121 sales) +16.5%.
Treasury and Golden Rules
Sovereign operates within a number of Financial Golden Rules that underpin our treasury and risk management. We have a minimum liquidity Golden Rule, instantly available financing was £501m which equates to 26 months of forecast headroom. Considering the cashflow requirements included in the latest business plan we expect to need extra financing in 2022/23 to fund development spend and maintain liquidity in line with our Golden Rule. There is significant headroom against our Interest Cover and Gearing Golden Rules, creating protection against our underlying debt facility covenants.
We continue to maintain headroom against all our Golden Rules.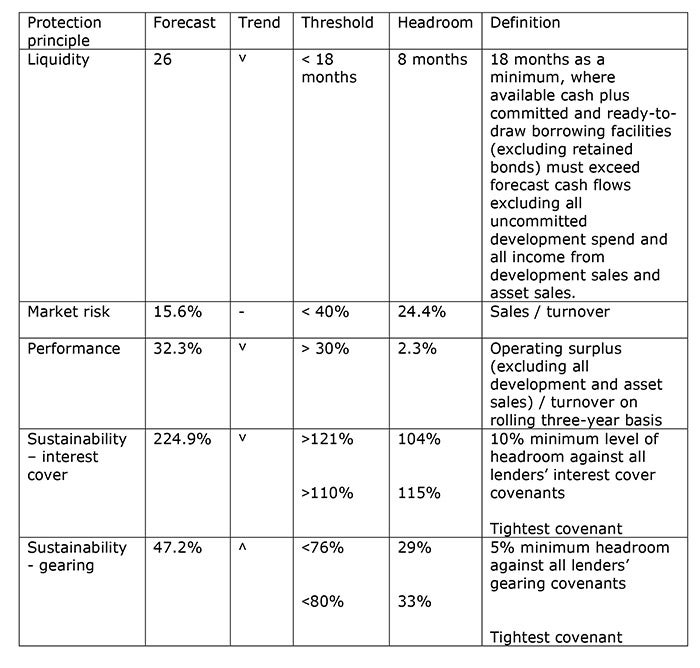 Corporate Affairs
We were successful in bidding for from the National Lottery Community fund, enabling us to invest £450,000 over the next two years in projects that will support young people to have a voice in the future of their housing and communities.
The government has launched a consultation
on the new Tenant Satisfaction Measures. All social housing providers will have to survey their tenants on these new measures. Sovereign has responded to the consultation as a business and the Resident Board Partnership has responded on behalf of our customers.