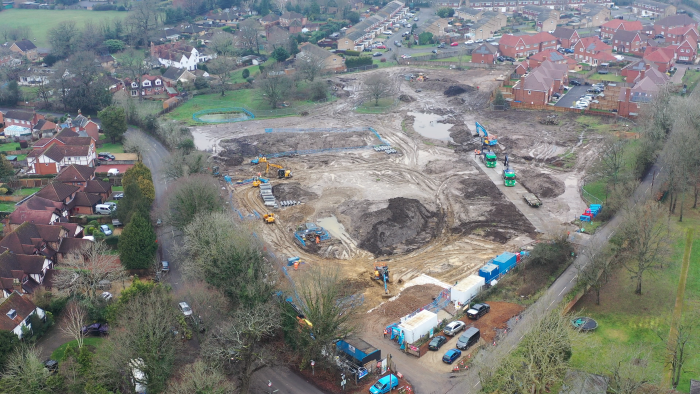 Sovereign expands East with 60 new homes in Ash, Aldershot
Sovereign Housing Association has purchased a 5.2 hectare former stables site in Ash near Aldershot to build 60 elegant new affordable homes for the local area.
In a move east of their traditional area, the new Grange Road site in Ash marks an expansion for Sovereign. The addition of the 60 home development is significant for Sovereign's land-led ambitions to build more homes, and better places across the south of England and will also create new homes in an area of high need.
With house prices in the Ash area of Surrey sitting at £478,062, much higher than the national average of £263,633,* affordable homes are in huge demand in the Guildford Borough with 2534 households on the waiting list.** The stylish, quality new homes at Grange Road represent one of Sovereign's first land acquisitions under its new land-led Development Strategy, working in partnership with Thakeham Group on a land and build package deal.
This stunning new development at Grange Road will provide quality affordable homes in the Borough and help Sovereign reach their goals of building more homes and better places by turning former disused stables and pony paddock into an elegant community of 28 new homes for affordable rent and 32 for shared ownership.
Sovereign will transform this development into a mixture of one-bed and two-bed flats, and two-bed, three-bed and four-bed houses. Working in partnership with south east based community creator, Thakeham Group, Sovereign is investing around £14.5m to regenerate the area and build beautiful new homes.
Steve Trenwith, Land and Planning Director, Sovereign, said, 'We're delighted to be working with Thakeham to build these quality new homes. This development marks Sovereign's move east of our traditional geography and we're hoping to continue this trend. The land here will be used to create a beautiful and affordable new community in Ash.'
Rob Boughton, CEO, Thakeham Group, said, "The development in Ash represents the start of an exciting new partnership between Thakeham and Sovereign Housing Association. Thames Valley is proudly-placed amongst the best places to live in the country. This is a wonderful opportunity to make a real difference in the area. Working with Sovereign, we can sustainably deliver much-needed affordable homes for the people who need it most."
Work looks set to start on the development around February 2021 with people able to move into their new homes near the beginning of 2022.
*Source https://landregistry.data.gov.uk/app/ukhpi/browse?from=2019-12-01&location=http%3A%2F%2Flandregistry.data.gov.uk%2Fid%2Fregion%2Fguildford&to=2020-12-01&lang=en