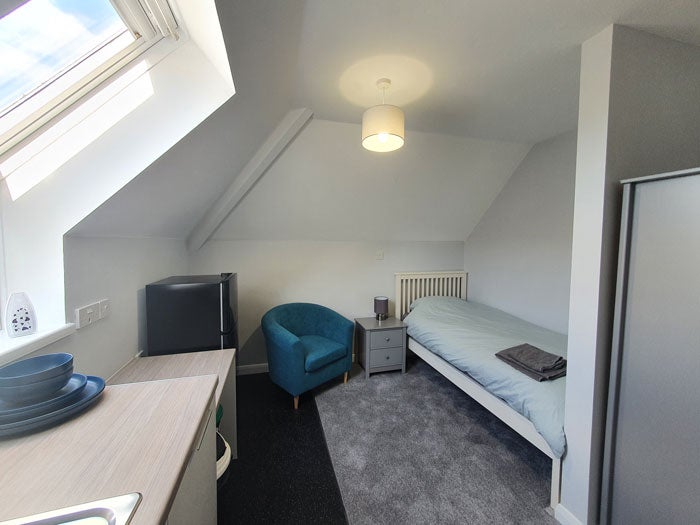 Working to end homelessness with new service opening in North Dorset on World Homeless Day
Six people in North Dorset currently experiencing homelessness will have a new place to call their own thanks to a partnership between Sovereign Housing Association and Dorset County Council.
The new service is being officially launched on World Homeless Day, Sunday 10th October.
Six university-style rooms have been fitted out with all of the facilities that people who have been homeless might need, with bedding, white goods, crockery and cutlery and more provided. A shared multipurpose space will allow for both meetings and socialising.
Marie Starr, Housing Services Manager for Sovereign, said: "This new service will offer a welcoming and supportive environment for people who have experienced homelessness. Everyone who joins us will be able to access our tenancy training programme, which gets them ready for independent living. We'll also offer a wide range of skills training through our virtual college.
"Additional space for training means that Sovereign employees and other partners in the programme have a place to drop in and work with our residents. We want the people joining us to be set up to succeed, working with them in a strengths-based way to increase resilience, and helping them to meet their personal aspirations. This means we look forward at what they would like to achieve rather than back at where they have come from."
The service is ready to take on residents now, fittingly in time for World Homeless Day which has been marked globally since 2010.
Marie continued: "I feel really proud to announce - on World Homeless Day - that we're also in discussions about refurbishing an existing building in North Dorset to offer a new homes to up to six families."

Cllr Graham Carr-Jones, Dorset Council's Portfolio Holder for Housing and Community Safety, said:
"Dorset Council is proud to be supporting Sovereign on this project which aims to help local people in real housing need.
"Reducing homelessness is about more than just putting a roof over someone's head; it's also about making sure that people have access to the help, support and training they need to move forward with their lives.
"We believe this service will do just that and make a huge difference to the lives of the people who come to live here."
It's hoped that the new service for families will be open by early 2022.