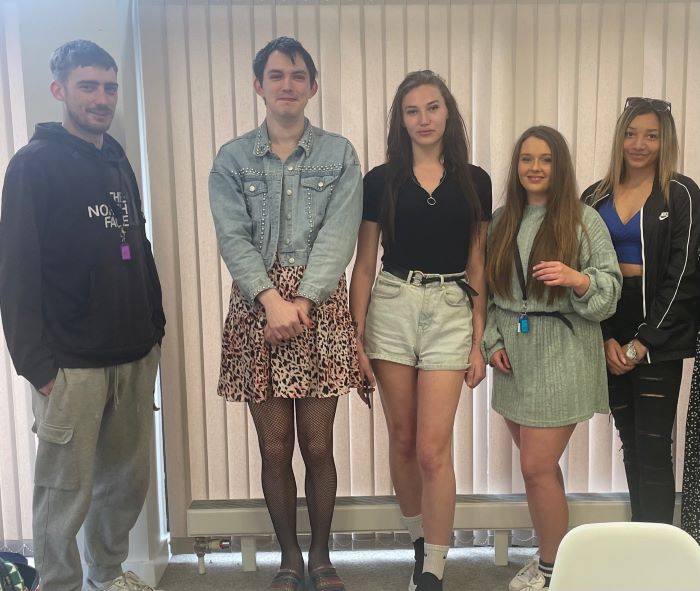 New £240k fund to help young islanders live independently
Young people on the Isle of Wight who are struggling to maintain a tenancy and keep a home through the cost-of-living crisis are being offered new support, thanks to a £240k fund created by Sovereign and The Blagrave Trust.
The new 'Move on and Thrive Fund' will jointly provide £240k in funding for community groups and charities that support young people to overcome housing challenges on the island. Over the next three years, Sovereign will provide £120k in match-funding, with The Blagrave Trust making up the remainder.
A dedicated panel made up of islanders aged 20-28 will help to decide how the fund is used and which projects receive funding. Every member of this panel has experienced problems either finding or being able to keep a home on the Isle of Wight.
By working together and using their experience for the benefit of others, the panel has identified core themes for the funding to focus on. These include mental health issues, substance misuse, and debt. Other areas of interest include projects which promote greater financial awareness and support residents to feel more connected in their communities.
Toby Eaglen, Sovereign's Community Investment and Partnership Lead said: "Islanders who are just starting to build their independent lives are the hardest hit by the shortage of affordable homes and the rapid rise in housing costs. The Move On and Thrive Fund could be a lifeline for many young adults on the Isle of Wight, and we are excited to be partnering with The Blagrave Trust to make this happen.
"It's really important that this Fund's impact is driven by young islanders with lived experience of housing related difficulty. They'll play a key role by supporting more people to go on and live independently, and in doing so, use their experience for the greater-good."
Commenting on the launch of the Fund, the panel said: "We are immensely proud to be able to participate in being part of the panel and sharing our experiences to ensure that the funding goes to organisations that can support young adults, that are in urgent need of support with their accommodation needs. "
Tessa Hibbert, Head of Grants at The Blagrave Trust said: "At Blagrave we are proud to be supporting experts with experience to help shape the future support for young people who are moving into independent living."
Grants of between £5,000 and £20,000 per annum are available for one to three years. Projects or activities must support young adults, aged 16–25, and their prospects for independent living. 
Charities, CICs and constituted community groups that are based or currently delivering work on the Isle of Wight can apply for funding. In August the panel will meet and give groups the chance to present their funding application and share their vision for the impact of the funding.
The Move On and Thrive Fund is now open for applications. Find out more about the funding criteria and details of how to apply.
Applications should be received by 5pm on 28 July 2023. For any questions related to the Fund, please email community.development@sovereign.org.uk.