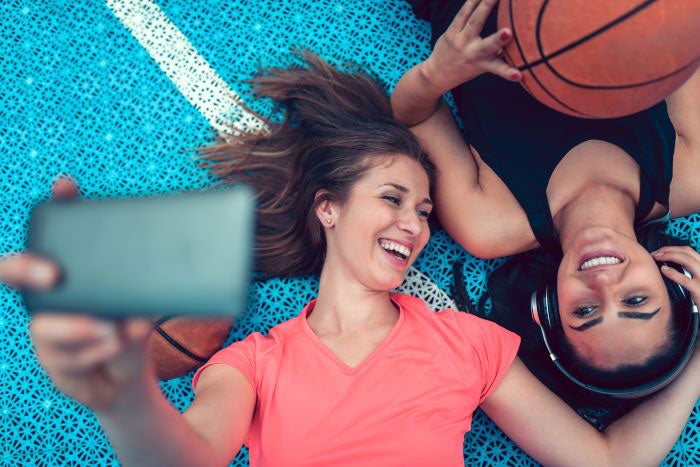 More than £86k awarded to youth social action projects in communities
Ten more youth-focused organisations working in Sovereign Housing communities are celebrating thanks to support from Sovereign and The National Lottery Community Fund's (TNLCF) #iwill Fund.
Sovereign's Youth Panel, which is made up of 18-25-year-old customers, helped to decide the winning projects after the housing association invited applications for the second round of its #iwill Fund. Through this, funding from TNLCF is matched with charities and groups doing great work across the voluntary sector. The #iwill Fund supports more young people to access meaningful social action opportunities and grow their skills and confidence.
Since last summer, more than £195,000 has been awarded through the Sovereign #iwill Fund to projects across the south of England. This is part of its ambition to work with like-minded organisations and create thriving and inclusive communities where people of all ages and background can flourish. As part of this second round of funding, more than £86,000 has been awarded to help bring these aspirations to life.
The 10 projects that received a share of more than £86,000 funding in round two are:
Intergenerational Music Making's Intergenerational Youth Social Action project received £10,000 funding. It will support 50 young people aged 10-18-years-old across Basingstoke and Plymouth to plan, deliver and evaluate a youth-led intergenerational social action project.
Spotlight UK's YSAP (Youth Social Action project) was awarded £8,232. 100. At least 100 young people aged 10-18-years-old from schools in Reading, Southampton, Newbury, Andover and Basingstoke will get involved in fundraising, campaigning and volunteering through the project.
Transition Chipping Norton's Youth4Future received £7,000 and will involve 50 young people aged 10-17-years-old in Chipping Norton who will be involved in campaigning to improve community facilities across the town.
Recreate Dorset's Social Action programme for Young People with Learning Differences will use its £8,560 grant to support 60 young people aged 10-20-years-old in Didcot. They'll get involved in planning and volunteering at their local annual arts festival as well as other social action activities.
Didcot TRAIN - Inspiring Young People's Youth Empowerment project received £9,960.85 funding. It will support 45 young people aged 10-20-years-old in South Oxfordshire to run and develop their charity. The young people will also be involved in designing and running events at their premises The Base, as well as other community projects.
Youth Challenge Oxfordshire (YoCO)'s YoCO Abingdon Music Event was awarded £4,250. 70 young people aged 13-18-years-old from the Vale of White Horse will be supported to produce their own music, and then plan and host a music event for the community.
Andover Mind 's "Be You" Peer Champions received £9,998.55 and will involve 50 young people aged 11-17-years-old in the Andover area. They'll be supported to act as peer champions in mental health and wellbeing in the community.
Revive Newport's Newport Youth Cafe and Detached Youth Work was given £10,000 funding. It will support 2,000 young people aged 13-19-years-old on the Isle of Wight to get involved in volunteering opportunities in the local community.
Plymouth Sports Charity's A Sporting Chance project will use its £9,880 grant to support 50 young people aged 12-14-years-old in Plymouth. They will create, manage and develop a free sports programme and sports festival, delivered to primary school children. The young people will also be able to achieve a recognised sports coaching qualification themselves.
Imayla CIC's Nature Well and Wildly Different project received more than £8,500 in funding. It will support 30 young people aged 12-16-years-old in Bristol to get involved in environmental social action.
The #iwill Fund is all made possible thanks to a £66 million joint investment from The National Lottery Community Fund and the Department for Culture, Media and Sport (DCMS) to support young people to access high quality social action opportunities. Sovereign is acting as an #iwill Fund match funder and awarding grants on behalf of the #iwill Fund.
Daisy Mummery, Sovereign's #iwill Fund Project Manager, said: "It's really exciting to have our second round of grant holders in place. The impact the #iwill Fund is having on young people and communities is incredible, having already generated over £2.1 million in social value so far. I'm looking forward to seeing how our second round of projects contribute to growing this impact further."
Emily Morris, Sovereign Youth Panel member, added: "The Sovereign #iwill Fund scoring day was a brilliant opportunity to get involved and support on awarding youth social projects funding. I felt empowered by having my own voice and opinion heard, which will go on to encourage youth to have their own say about other potential social youth action in Sovereign communities via #iwill funded projects."
Helen Whyman, Head of the #iwill Fund, added: "Thanks to National Lottery players and DCMS, the work of the #iwill Fund continues to have an incredible impression on young people. This £66 million joint investment supports young people to access and lead high quality social action. This youth social action benefits the young people as they develop skills as they undertake social action that is challenging and socially impactful on issues that are important to them and also helps the local communities who benefit from the impressive action taken by young people. We are looking forward to seeing the fantastic impact of the second round of Sovereign projects for young people and communities."
Additional funding, in addition to that already announced, is expected to follow shortly.
Further information can be found here.
Notes to editors
The #iwill Fund is made possible thanks to £66 million joint investment from The National Lottery Community Fund and the Department for Culture, Media and Sport (DCMS) to support young people to access high quality social action opportunities.
The #iwill Fund brings together a group of organisations who all contribute funding to embed meaningful social action into the lives of young people.
The #iwill Fund supports the aims of the #iwill campaign - to make involvement in social action a part of life for young people, by recognising the benefit for both young people and their communities.
By bringing together funders from across different sectors and by making sure that young people have a say in where the funding goes – the #iwill Fund is taking a collaborative approach.
The #iwill movement
The #iwill movement is a collaboration of over 1000 organisations and 300 young #iwill Ambassadors from across the UK. They are united by a shared belief that all children and young people should be supported and empowered to make a positive difference on the issues that affect their lives, their communities, and broader society.
#iwill was launched in November 2013 after an independent review into how different sectors could help more young people to make a positive difference. 
The #iwill movement is supported by an independent coordination hub, hosted by Volunteering Matters & UK Youth.
Take the lead by signing up to the Power of Youth Charter at www.iwill.org.uk  or follow us @iwill_campaign on twitter, Instagram and LinkedIn.
The National Lottery Community Fund
We are the largest funder of community activity in the UK – we support people and communities to prosper and thrive.
We're proud to award money raised by National Lottery players to communities across England, Scotland, Wales and Northern Ireland, and to work closely with Government to distribute vital grants and funding from key Government programmes and initiatives.
Our funding has a positive impact and makes a difference to people's lives. We support projects focused on things that matter, including economic prosperity, employment, young people, mental health, loneliness and helping the UK reach net zero by 2050.
Thanks to the support of National Lottery players, our funding is open to everyone. We're privileged to be able to work with the smallest of local groups right up to UK-wide charities, enabling people and communities to bring their ambitions to life.  
National Lottery players raise over £30 million each week for good causes throughout the UK. Since The National Lottery began in 1994, £43 billion has been raised for good causes. National Lottery funding has been used to support over 635,000 projects - 255 projects per postcode area.
Website
 │Twitter
 │Facebook
 │Instagram
Department for Culture, Media and Sport
General enquiries
Email: enquiries@dcms.gov.uk
020 7211 6000
Press Office
Media enquiries (journalists only) 020 7211 2210
Out of hours telephone pager 07699 751 153.
Social media
Match-funders and grant-holders will promote the #iwill Fund and share news, stories and other content across their social media channels, turning stories in to blogs, case studies and/or films and audio that can be shared externally.
When communicating about the fund, the hashtag #iwillFund should be used. It is the responsibility of the match-funders to ensure that the grant holders are using these hashtags.
The partners will use the handles @iwill_movement, @TNLComFund and @DCMS when mentioning being in receipt of funding on social media.
The National Lottery Community Fund's Facebook page is https://www.facebook.com/TNLCommunityFund/
 and there is also a blog at https://www.tnlcommunityfund.org.uk/news/blog where we share stories about organisations we fund, beneficiaries and volunteers.
Public affairs
The match-funders are to inform The National Lottery Community Fund of any meetings, correspondence or contact with MPs or local authorities about the #iwill Fund. They will also liaise with The National Lottery Community Fund on the planning of campaigns or events with MPs, local authorities and peers to ensure all parties are consulted on these plans.