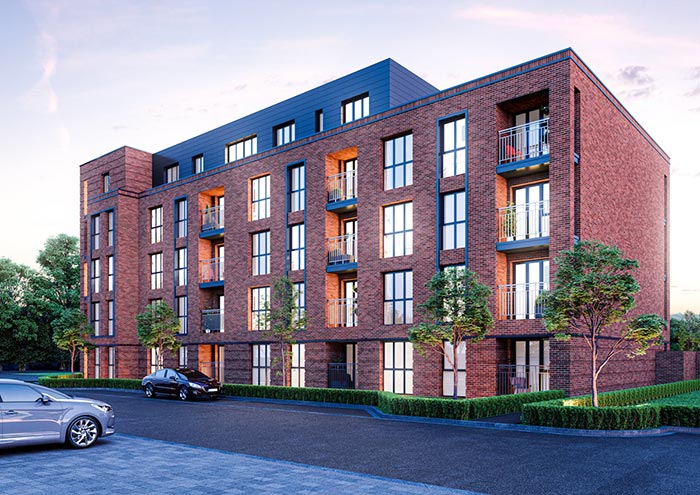 Sovereign are making the city more affordable at Winchester's Knight's Quarter Development
Against news that Winchester is one of the least affordable places to live in the UK, Sovereign launched their shared ownership homes last Friday to a waiting list of viewers. In a popular event at the Knights Quarter development, Sovereign offered a Covid-safe look at the desirable new affordable homes in the centre of Winchester.
Often voted one of the best places to live in the country, Winchester remains prohibitively expensive for a lot of people, with an average house price of £447,808 – a staggering £213,808 above the national average of £264,000. Local prices also increased 11% in the last year further pushing up demand for affordable homes.
Sovereign are working with Berkeley to bring these quality new affordable homes to Winchester, regenerating the former police headquarters. The disused site in Romsey Road is making way for almost 300 homes, 97 which will be available through Sovereign for affordable rent and shared ownership. The 60 modern, comfortable, and spacious shared ownership one-bed and two-bed apartments are available to reserve now through Sovereign for shared ownership and can be purchased with deposits from 5% of the share value.

Sovereign Sales Manager, Hope, said:

"Shared ownership offers an opportunity to buy a home without needing the large deposit or the mortgage that goes with it. You buy a share in the home that's right for you and pay a reduced rent on the remaining share, along with a monthly service charge.
"As your finances allow, you can buy further shares in your home as and when you choose, meaning you'll own more and pay less rent. We call this 'staircasing' – in most instances you can staircase all the way up to 100% to own your home outright.
"Sovereign is passionate about giving everyone the opportunity to own their own home. Our dedicated sales team has already helped thousands onto the property ladder. We're excited to make living in Winchester city centre a reality and can't wait to help more people love where they live.
"Shared ownership is making owning a home in Winchester city centre a reality for aspiring homeowners."
For more information about shared ownership at Knights Quarter visit https://www.sovereignliving.org.uk/developments/knights-quarter-winchester