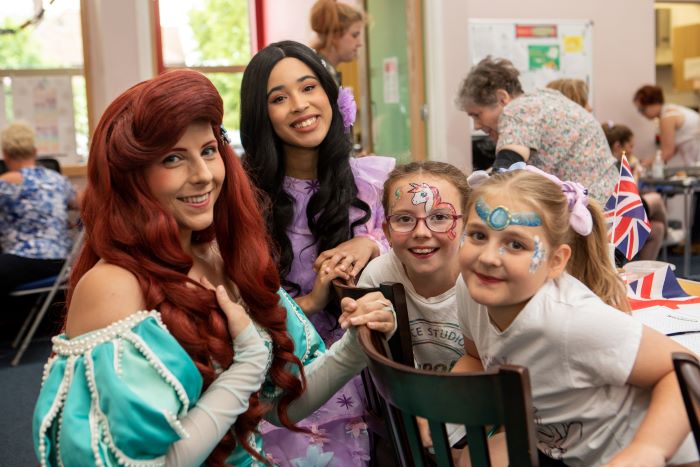 Hundreds celebrate at King Charles' Coronation event
Hundreds of people continued to celebrate the Coronation of King Charles III in South Ham during the half term week, with residents enjoying fun free activities.
Sovereign Housing Association, partners and local community groups stepped out in style at South Ham's St Andrew's Methodist Church, to help local residents celebrate His Majesty's Coronation.
It was all about the community as around 200 residents gathered to celebrate the Coronation at the end of May, aimed at bringing all ages together. A host of inspiring, local, charitable groups and volunteers with their family and friends joined in the fun events and activities organised to commemorate this momentous occasion.
With enthusiasm and support from the South Ham Residents group, people talked about their hopes and aspirations for the community. Supported by Sovereign's Community Investment team they shared fabulous pictures of historic news articles from the area.
The event, which was predominantly funded by Sovereign, began with a few words from Sovereign's Community Investment & Partnership Lead, Stevie Chadwick, who said: "What a glorious occasion! To have so many residents of all ages and community groups joining together to enjoy a fun filled day is simply wonderful. I'm so proud to be working in this community with its amazing residents, charities and community groups and looking forward to what we can achieve together in the future."
The event's success was largely due to the charities, volunteers and community partners who gave up their time to get involved. Seated Pilates gave older residents the opportunity to try something new, while youngsters could get creative with crown making and playing giant games on Russell Howard Park.
Valued local partner, St Andrew's Methodist Church hosted the day and provided delicious cakes, jacket potatoes (with a special coronation chicken topping), refreshments and activities, thanks to a Coronation grant from Basingstoke & Deane Borough Council. With further healthy advice, fruit pots and fun activities provided by the NHS Healthier Communities engagement team.
King Charles' environmental activism is well known. So as a tribute the community had fun joining in with games designed to engage people in their own environmental footprint and understand how to make positive changes towards the climate.
Matt Buckham, Community Investment Director at Sovereign said: "It's wonderful to hear how local residents have come together and used this Coronation event to engage, join together and share past stories and ideas on what matters to them – whilst having fun at the same time. There are plenty of opportunities to get involved in your community through our Community Investment team, so if you've got a great idea for your neighbourhood or would like to get more involved in your community, please get in touch."
Speaking after the event, Basingstoke MP Dame Maria Miller said: "It was hugely encouraging to see so many residents and members of the community come together to continue to celebrate the King's Coronation. I applaud the hard work by Sovereign's team and all the other partners that were involved in organising such a fantastic and memorable day."
For more information about any of Sovereign's community services including money advice, employment and training support, and how we can help you or a group make changes that matter to you, contact Community.Development@sovereign.org.uk or call 0300 5000 926.