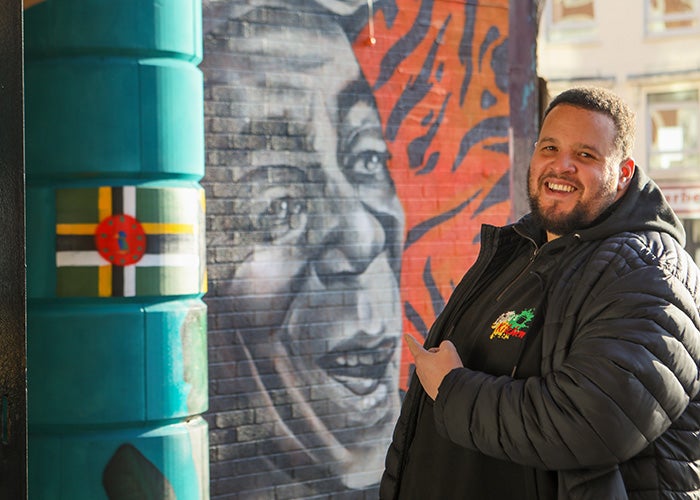 Housing association pays for graffiti
Residents living in Ashley Court in the Montpelier area of Bristol approached the housing association's Community Development Officers, Henry Palmer and Daisy Mummery, to ask whether they might be able to gain funding to brighten up the area with a work from Hazard, recognised by the Guardian as one of the UK's top 5 female graffiti artists.
The housing association agreed and is funding two projects around £3.5k, with the second being taken up by fellow graffiti artist Silent Hobo.
Rob, one of the residents living at Ashley Court, said: "We are encouraged by Sovereign to make our block feel our own. Bristol has a proud tradition of embracing graffiti art and so we felt that rather than painting over the tags being left on our walls, that we could work with a professional artist to make them part of a bigger picture."
Hazard, aka Harriet Wood, who comes from York but is now based in Bristol, has painted murals and graffiti portraits all around the world, including on the 79th floor of the 3 World Trade Centre in New York, in Barcelona, and in a warehouse on the Mexican border.
Her work can also be seen at other sites in Bristol including Wilder Street, Jamaica Street and Stokes Croft.
Hazard said: "I'm super excited to be a part of this project - creating artwork that represents and belongs to the community, while brightening up the street. Street art is one of the most effective ways of transforming dull walls and simultaneously communicating the lives and stories of local residents."
Henry Palmer, Community Development Officer, said: "The artwork includes flags of the world with particular emphasis on the Somali, Jamaican and Union Jack. Bright colours, flowers, water, animals and icons that represent history of St Pauls are also woven in with Hazard's trademark skill."
Mark Daley, a rapper and restaurant owner based in Montpelier, is the son of Gullu a local musician and family man pictured in one of the murals. He said: "Walking past my dad's picture every day will provide a fitting memorial to a man who was the life and soul of the community. He was so warm to everyone, and I still miss him every day."
The housing association has also funded a second piece of art, working with the renowned Bristol artist Silent Hobo, to paint a temporary mural on a wall at Catherine Court, Montpelier. Again, the work was requested by residents living in the complex, who worked with the artist to decide on the images and ideas used.
Henry continued: "These art projects have really engaged our customers and those living and working nearby. They were a spin off from our 'Your Community Your Choice' project which is where we offer funding to our communities. Our customers nominate projects and ideas and then vote on the best ones. For example, at Ashley Court we put in planters, benches and a ping pong table after residents voted for the suggestion. It really gets everyone involved. At Sovereign, we're here for the long term, so making sure people feel connected to the place that they live is really important."
The work on the murals, which will also feature late local musician Gilbert "Ajax" Watson and a portrait depicting dinner lady Jestina Sharpe, are due to be completed in the coming weeks, with work on Jestina starting on Friday 21 January at Ashley Court.