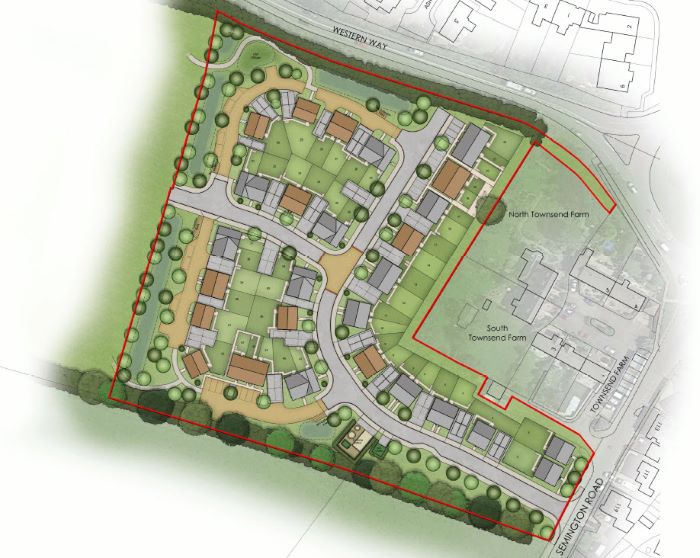 Green light for all-affordable housing scheme in Melksham
Sovereign Housing, in conjunction with Living Space and Terra, has planning approval for an entirely affordable-tenure development of new homes on the outskirts of Melksham.
The approved plans, given the green light by Wiltshire Council, will see the delivery of 50 new homes, landscaping and public realm spaces off Semington Road.
The affordable scheme, which will be managed by Sovereign, will comprise a mix of affordable rent and shared ownership properties. Priority will be given to people with a local connection to the parish through family or work.
Every one of the 1-bed maisonettes, 2-bed bungalows and 2, 3 and 4-bedroom family homes, will be built in materials which complement existing homes in the local area.
Each property will be heated cleanly using air source heat pumps, making this Melksham development a zero-gas site. This investment decision is expected to lower residents' energy bills as well as set them in good stead ahead of 2025, when new gas boilers will no longer be installed in the UK.
Most homes at the site will be built according to Sovereign's new and exclusively designed sustainable house type range. This will see future customers benefit from homes which exceed national space standards, include increased storage and go beyond many building standards and norms.
Every home will be built to Sovereign's Homes and Place Standard. This underpins how it invests in all its homes and places, and marks Sovereign's commitment to build and maintain good quality, sustainable homes and better places to live.
New green spaces surrounding the development will include areas of enhanced tree planting and landscaping to the site boundaries.
Homes at Melksham will be within easy reach of the nearby primary school, a mix of local shops, sports centre, and the local railway station which is just a short walk away. The 403 National Cycle Network runs alongside the development and bus routes connect Melksham to Devizes, Bradford-on-Avon and Bath.
Work on the development is expected to complete in 2026.
Raphael Cohen, Regional Head of Project Management said: "We're delighted to have received approval for 50 new affordable homes in Melksham and be working alongside Living Space, Wiltshire Council and Melksham Without Parish Council to turn our ambitions into a reality.
"Our new and more sustainable house type range is something we're very proud of. By developing more homes which exceed national standards and norms, we're continuing our legacy of building affordable homes which support our future customers to live well, in communities where they can really thrive.
"Wiltshire is one of our core areas where we are looking to build more homes - and I'd encourage anyone with further development opportunities to get in touch."
Paul Breen, Managing Director of Living Space, said: "It's fantastic to have received the green light for this much needed scheme here in Wiltshire, as these homes will play a vital role in meeting the growing affordable housing needs of the area.
"We're also proud to be partnering with Sovereign on this future-proofed project, which will see air source heat pumps installed in every home – equipping these households for a gas-free future. We now look forward to getting spades in the ground and seeing this new neighbourhood take shape."
Land agents and developers with land available for development are invited to contact Sovereign's development team by emailing land@sovereign.org.uk.
Image: Living Space site plans