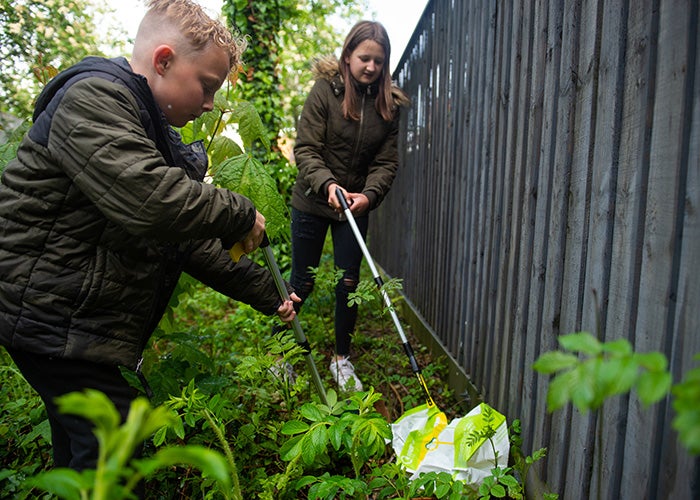 Further funding keeps Youth Club on Wheels turning
We've expanded our funding for the Young Bristol 'Youth Club on Wheels', who will deliver their 'Community Ambassador Programmes' (CAP) to a new housing development in Brislington, Bristol.
We awarded an additional £5,000 through the #iWillFund to support CAP, with Clarion Futures, the charitable foundation of the Clarion Housing Group matching this with a further £5,000.
Young Bristol has worked in partnership with Sovereign and Clarion Futures since June 2020, delivering Community Ambassadors and Mini Community Ambassadors Programmes in communities in South Bristol.
The new Brislington-based Community Ambassadors programme, which launched on 18 October, will see Young Bristol's Youth Club on Wheels work with young people aged 11 – 25 and their families over the next 12 months at the Lynwood Park development.
The programme is designed to build positive links between young people and residents, support young people to organise meaningful social action projects, and to enable youth voices to speak up on the topics that really matter to them.
Lucy Saunders, Young Bristol's Development and Fundraising Manager, said: "Despite the challenges and restrictions of the pandemic over the last year, initial programmes had a huge positive influence on the young people that were supported in Whitchurch, Hengrove and Brislington, with 42 young people developing and delivering social action projects to make a difference in their local communities.
"These included litter-picking, planting community beds on their housing estates, tidying up street signs to improve the look of their area, and creating tokens of goodwill to deliver to elderly members during lockdown."
Shea Stew, Youth Club on Wheels Provision Lead said:
I can safely say that I am really excited about the new Community Ambassadors Programme at Lynwood Park. At our first face-to-face session we got to site and engaged with a group of lovely young people straight away. They gave us ideas about all the things they would like to do in the area, and they were like sponges – wanting to learn and engage, it was fantastic! You know a project is going to be awesome when the young people lead the initial ideas."
Daisy Mummery, Community Development Officer, Sovereign said: "It's great that the scheme is running for another year, at Lynwood Park this time, where many people live in Sovereign homes.
"After the success of last year, we know that leading on a social action project gives a positive goal for young people to aim for, encourages young people to take responsibility for their actions, and acknowledges the important role they play in community life. I'm really looking forward to seeing the outcomes of this new programme over the next 12 months."
You can find out more about our Youth Club on Wheels provision in and around Bristol
.