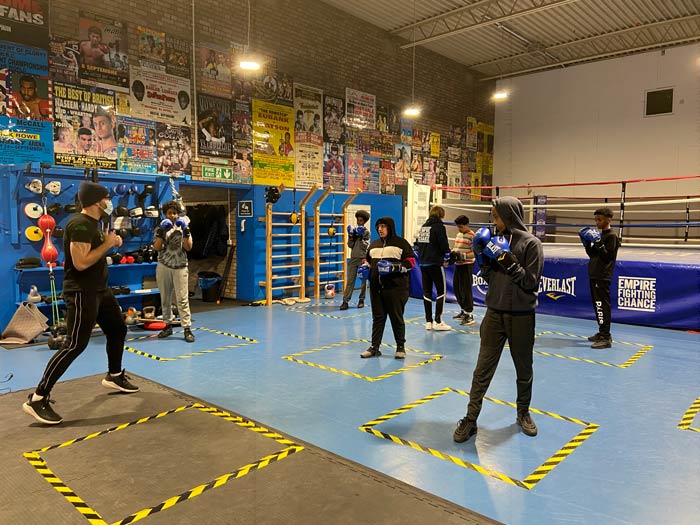 Free boxing programme launched for Bristol teens this summer
Empire Fighting Chance partners with Sovereign and Clarion Housing to deliver a school holidays boxing programme for vulnerable young people.
Youth boxing charity Empire Fighting Chance will be running its flagship training programme in Brislington this summer, with the support of both Sovereign and Clarion Housing.
The sessions will combine non-contact boxing and group activities with support from a qualified coach who specialises in mentoring young people. The summer programme has been developed by Empire Fighting Chance to offer children and teens in the local area a safe space to go outside of term time and an opportunity to learn a new skill.
Each three-hour drop-in session will feature a structured set of boxing activities, including pad work and skipping, as well as evidence-based personal development messages to create healthier thinking.
The programme will begin on the 26th July, with sessions taking place three times a week until 27th August, and again in the 2022 Easter break. Classes will be delivered in multiple locations across the region including Hungerford Community Centre, St. Anne's Park and The Hub, Wick Road, in a bid to offer spaces to as many people as possible.
Martin Bisp, CEO and Co-Founder of Empire Fighting Chance (EFC), said: "Whilst term-time offers stability and routine, the summer, Easter, and half term breaks can push already vulnerable young people into higher risk. These risks are varied and complex, often including mental health problems, forms of abuse, or the risk of involvement in antisocial or criminal behaviour."
"Youth services are also limited, especially in the most deprived areas of Bristol, and for low-income families holiday activities such as days out or recreational sports are often unaffordable," Martin added.
"By offering a schedule of boxing training – facilitated by Empire Fighting Chance – we can engage young people in a fun, physically challenging and mentally rewarding experience which is free for all at the point of delivery."
Following sessions with EFC, young people have reported feeling healthier, happier, and more positive about their future. In 2020, 93% felt less tense, anxious, or nervous, 96% felt more confident and motivated about their career and 68% were no longer committing antisocial or criminal acts.*
The Brislington scheme will be funded by UK housing associations Sovereign and Clarion Housing, and will primarily target young people aged 10+ connected to both housing groups and the wider community.
On the partnership, Daisy Mummery, Community Development Officer for Sovereign, said: "Youth engagement is a priority for us at Sovereign, as part of our Thriving Communities Strategy. We're hopeful that this partnership will engage up to 100 young people over the school holidays, improving their wellbeing and offering them an opportunity to be part of something that could become a lifelong passion."
During the lockdown in 2020, the EFC coaches delivered boxing sessions remotely and outdoors in St. Anne's Park and Arnos Park. From April of this year, they have also been continuously delivering sessions at Hungerford Community Centre, primarily for young people age 16+ as part of the Bristol Impact Fund.
More widely, EFC provides non-contact boxing courses, mentoring and therapy for more than 4,000 young people each year, many of whom are vulnerable or from underprivileged backgrounds. This year, the Bristol-based charity also added a new string to its bow in the form of financial education, following significant demand from its young members.
The first free summer Boxing Training session will take place at St Anne's Park on Tuesday 27th July, 11am - 2pm. To book a space, please call 0117 908 6655.
More information about Empire and its boxing training can be found at: http://www.empirefightingchance.org/