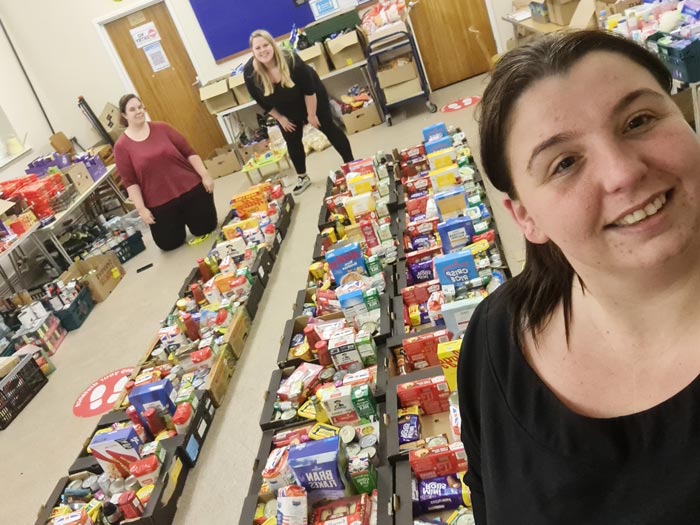 Fabulous food boxes from Mamas Bristol CIC
In just four weeks, 150 fabulous food boxes worth nearly £30 each have been distributed to families and individuals across Bristol by community group Mamas Bristol CIC.
Each box - weighing in at an enormous 26kg - contained fresh fruit and vegetables, staples like rice and pasta, sweet treats, personal hygiene items and more - and gave a lifeline to struggling families.
In May 2020, some mums from Mamas Bristol CIC posted on Facebook offering their 'free to collect' leftover portions of dinner and received an overwhelming response – and Mama's Meals was born. More than 5,100 dinners were cooked by the group during the first lockdown – and this time, during Lockdown 3, they've jumped into action by creating much-needed foodboxes.
Mamas Mealboxes has seen 11 'mamas', four foodbank employees, eight drivers and 20 children, as well as volunteers from the organisation CVS donate their time towards making up packed boxes of supplies.
The food boxes prepared by the group included nine set meals, as well as handy recipe cards giving meals that could be achieved on a budget, and how to cook them. Impressive 'mama volunteer' Gayle altered quantities and arranged shopping lists, doing countless stocktakes to ensure not a single item was wasted.
Paige Josham, mum-of-two and Mamas Bristol CIC Director, said: "We've had people telling us that we've really helped take the pressure off them financially in a time when they couldn't work due to Covid and that the supply of fresh food and meals lifted their spirits and made them less worried about getting through the month.
"Being able to give families all the essential cupboard ingredients they need to cook fresh meals was also thanks to a huge number of donations – more than £2,300 worth of goods from members of the public, as well as cash donations from organisations like Sovereign Housing Association who funded a whole week's worth of boxes for us."
Paige concluded: "Although lockdown is coming to an end, many families and individuals will need our continued support to bounce back. Anyone who wants to find out more about the project can donate through PayPal or get in touch with us via mamasbristol@outlook.com."
Mamas is now in the process of setting up their headquarters so that families can drop in for a cup of tea, guidance if they need long term help or social inclusion in a warm and friendly atmosphere. Once the team is able, they will be opening the doors and welcoming in the community.
Mama's Bristol CIC began in March 2018 and has been accessed by over 18,000 people, over the past few years.