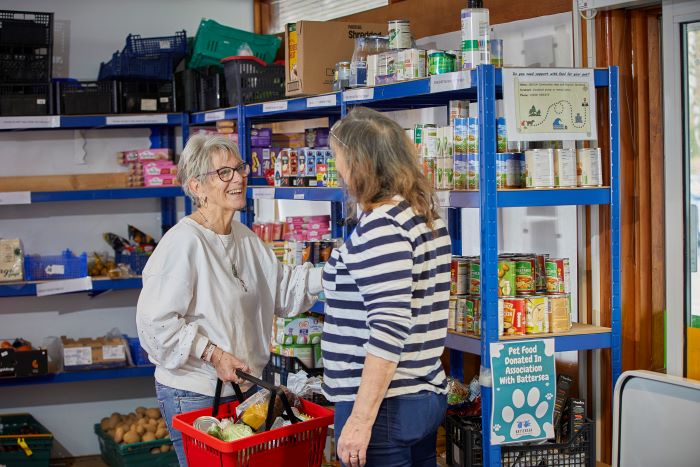 Cost-of-living partnership delivers for Basingstoke residents
Residents in Basingstoke are better off thanks to a series of partnerships Sovereign is forging as part of its response to the cost-of-living crisis.
Following the success of its cost-of-living event held in March, representatives came together once again to provide residents with more support.
Representatives from Basingstoke Citizen's Advice Bureau, Hampshire County Council and the Westside Community Food Pantry came together before Easter to provide advice to local residents.
Working alongside Sovereign, which organised the drop-in event, the session highlighted the positive impact partnerships play in helping to reduce the impact of the cost-of-living crisis.
Residents received advice from Sovereign on the Bedroom Tax and details of how to claim Housing Benefit. They also benefitted from guidance on Pension Credit, as well as advice on employment and training opportunities plus energy bills.
With energy costs and energy use on more of our minds, residents also had the chance to find out more about the council's 'Hitting the Cold Spot' programme which promotes ways to keep warm and healthy.
The event at the Westside Community Centre was open to all South Ham residents, regardless of whether they live in a Sovereign home.
Sarah Fordham, Community Investment and Partnership Manager at Sovereign said: "We're keen to forge partnerships with like-minded organisations wherever we can to ensure that we maximise the support that is available to our customers and those in our communities.
"The feedback from this event has once again been very positive. This tells us that we're right to be partnering with others who share our commitment to help the most vulnerable in our communities and change people's lives for the better."
These partnerships are some of many the housing association, which is headquartered in Basingstoke, has forged to deliver more support across its communities.
Over the last year, Sovereign has worked closely with stakeholders including Basingstoke and Deane Borough Council to support the roll-out of the UK Government's Household Support Fund. These latest partnerships are a continuation of its commitment to go further and do more to support the most vulnerable during this cost-of-living crisis.
Sovereign has stepped up its cost-of-living support in recent months. Last year, it launched its sector-leading £3million Customer Support Fund to provide targeted support. It is also on track to complete 1,500 new affordable homes this year, with a preference to deliver homes for social rent wherever possible.
Various measures are in place to support residents living in Sovereign communities – from information on grants and benefits, to details of warm hubs and food banks which can help. A dedicated webpage has already been set up
which includes lots of targeted information and advice.