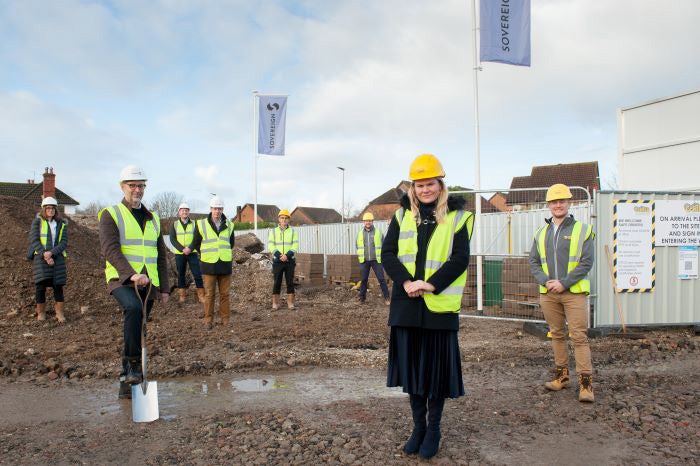 Building starts on site for more affordable housing in Thatcham
An old industrial estate in Thatcham is being turned into a brand new development which will bring much needed affordable homes to the area.
Sovereign Housing Association is working with developers E G Carter & Co Ltd on the former Crown Yard site, with 33 new homes scheduled to be ready by February 2022.
The original owner of the land had secured planning permission in 2017 to build 33 private homes, with no affordable provision. When the land came up on the open market Sovereign, using Homes England strategic partnership funding, were able to acquire the site, secure planning permission from the local authority and building started on site in October this year.
Sovereign CEO Mark Washer and Phil Barnes, Associate Director for E G Carter & Co Ltd, were on site at Crownbrook Place earlier this week where they were joined by Laura Farris, MP, for Newbury.
Mark Washer said: "We are delighted that we were able to acquire this land and secure the planning permission for the affordable homes people in the local area need and want to live in. This is also an example of the true benefits of our strategic partnership with Homes England.
"Sovereign designed all the homes and this is a land led deal which is in keeping with our development ambitions: delivering homes and places that are fit for today and tomorrow.
"With over 6,000 homes in the Newbury area we are by far the largest registered social housing provider, and it has been great to meet with Laura to discuss the plans for Crownbrook Place and other development ambitions we have in the region."
Phil Barnes said: "We are delighted to have commenced this land led development on behalf of Sovereign which is a result of a collaborative effort to successfully purchase the property and negotiate planning permission for these much needed affordable homes. We are looking forward to welcoming the new residents to their new homes in 2022."
The development consists of 33 homes, 18 of which are shared ownership and 15 affordable rent. They are a mix of two, three and four bedroom houses and one and two bed flats.