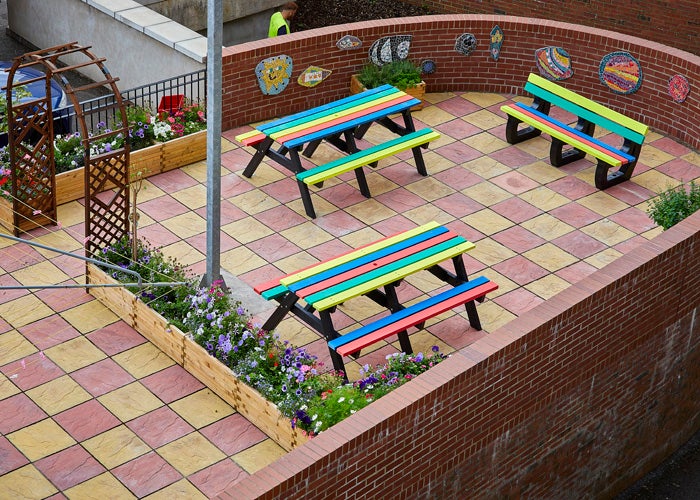 Bristol spaces to get £27k makeover
Sovereign Housing Association is working alongside Bristol residents to transform the outdoor spaces around where they live.
Three projects, submitted by locals in Easton, Fishponds and Westbury-on-Trym, will receive a share of over £27k from Sovereign's Your Community Your Choice (YCYC) programme.
YCYC lets people submit their project proposals and the public then gets to vote on which ones they think should receive funding and Sovereign's support.
Residents from 113 homes will benefit.
Kiln Court in Easton will see its communal garden converted into a haven for residents and wildlife alike.
Residents will be able to grow their own food in new vegetable planters and take a rest from gardening on recycled plastic benches.
A bug hotel will be added, to give bees and other insects that contribute to the local ecosystem a safe space to stay, lay eggs and hide from predators.
Fencing will also be fitted to the front, to create more privacy, and a barbeque area installed so neighbors can enjoy meals together.
Jordan Edgecombe, Support Worker for Second Step who manage Kiln Court, said: "The project will transform our garden space into an outstanding communal area that is conducive to the continued wellbeing of our residents.
"They've been motivated by how they have been listened to and it's really encouraging to see the enthusiasm displayed by the team behind YCYC."
College Court in Fishponds will see a great change to its outdoor space.
Gone will be a disused gravel area, nicknamed 'the beach', and in its place will be decorative trees and shrubs. Lavender plants and bug hotels will be placed throughout the estate and recycled plastic benches installed in green areas.
Alan and Marie, who submitted the idea to YCYC, said: "It's good news on 'the beach' upgrade, which we've been asking for, and its due to Your Community Your Choice we have been successful."
Llewellyn Court in Westbury-on -Trym is surrounded by green areas, so residents wanted to utilise them to create a private sanctuary for everyone living there.
A new fence and gate will encompass extensive changes to the layout of the gardens, and neighbours can enjoy nature together, surrounded by flowers, home grown vegetables, and wildlife using the new bird box and bug hotel.
Daisy Mummery, Community Development Officer at Sovereign, who's managed the YCYC project, said: "It was great working with the residents to develop these ideas.
"I'm really looking forward to seeing how they'll benefit everyone, with works completing in the next two months."