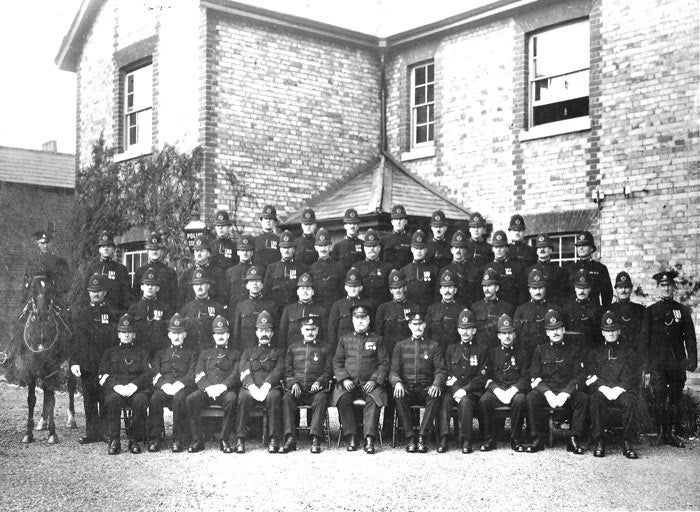 Blue heritage plaque for PC Albert Alexander
Released by Newbury Town Council
Newbury Town Council is pleased to announce the unveiling of a blue plaque to Police Constable Albert Alexander (1897-1941), who was the first person in the world to be treated with Penicillin.
Born in Woodley, he served in the Berkshire Constabulary in Newbury from 1926 to 1929 and at the time of his death was stationed in Abingdon. In 1924 he married Edith Mary Deacon in St Mary's, Speenhamland, and now lies buried beside her in Newtown Road Cemetery. The blue plaque will be located at the entrance of Carnarvon Place, Andover Road, RG14 6LP, and will be unveiled at 11.00 on Tuesday 25th May by the Mayor of Newbury, Cllr Billy Drummond.
PC Alexander was on duty in Southampton during the blitz, when he was injured in an air raid and developed blood poisoning. He was transferred to the Radcliffe Infirmary, Oxford, where it was decided to treat him with the newly discovered antibiotic Penicillin. He showed immediate improvement, but sadly not enough Penicillin could be isolated in time to complete the cure and he died on 15th March 1941.
His place in the history of antibiotics is secure. It was decided to locate the plaque at the site of the former Newbury District Hospital because of the medical connection, not because PC Alexander was treated there for his injury, and so that the plaque will be seen by many members of the public.
Albert and Edith Alexander had two children. Their daughter Sheila LeBlanc, who married a US serviceman, and granddaughter Linda Willason live in California.
Linda said, "My mother is beyond thrilled to hear about this! Thank you all for everything you're doing to honour my grandfather! It's all truly appreciated."
Cllr Nigel Foot, Vice Chairperson of the Heritage Working Group, said: "The Town Council is very grateful to the Friends of Newtown Road Cemetery who brought Albert's history to the attention of our Heritage Working Group and have provided all the background information to complete it. We also thank Sovereign Housing for kindly agreeing to the erection of the plaque, and the Newbury Society for their generous donation of £100 towards the cost."
In the photo outside the former Newbury Police Station in Pelican Lane, PC Alexander is standing at the extreme left in the second row from the top, immediately beside the horseman.