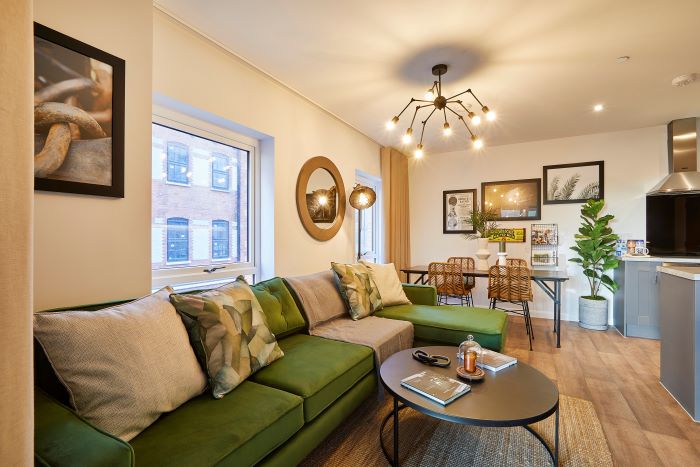 Sovereign launches new shared ownership apartments at iconic Horlicks Factory in Slough
Leading shared ownership provider, Sovereign, has launched its first 50 affordable apartments at Horlicks Quarter in Slough.
The housing association, which is one of the UK's leading shared ownership providers, has launched its first phase of affordable homes at the new Horlicks Quarter development in Slough, following the restoration of the iconic Horlicks Factory.
The 12-acre Horlicks Factory site has been transformed into a mixed-use development, including 1,300 homes, central square, nursery and café – with Sovereign set to deliver a total of 152 affordable properties, including 50 shared ownership apartments and 102 homes for affordable rent.
With properties ready for completion in spring this year, Sovereign has now released a collection of 10 one-bedroom and 40 two-bedroom modern apartments available with shared ownership and set within landscaped parks, with select plots overlooking the beautiful memorial gardens and former Horlicks Factory building. Each property is ideal for anyone looking for an affordable way to move home or get onto the property ladder using shared ownership.
Horlicks Quarter is ideally positioned just a short walk from the local train station with fantastic links to London, Windsor, Reading and Maidenhead, as well as the upcoming Crossrail line. Buyers can therefore get the benefit of homeownership in a well-connected location - a cost-effective alternative to central London living.
Slough is currently seeing significant regeneration and is home to a vast number of Global Headquarters and Slough Trading Estate, making it the ideal location for working professionals to set up base.
Sovereign recently hosted several stakeholders from the new homes and construction industries at Horlicks Quarter, including Berkeley Group, local agents and other developers.
Attendees were welcomed with a relaxed networking session held by the Sovereign Sales and Development team. They were given an insight into the scheme being delivered in Slough, including details on the shared ownership offering, and treated to a first look at the new two-bedroom show apartment.
The show home offers a glimpse into the apartments and lifestyle on offer at Horlicks. Designed with first-time buyers and professionals in mind, the industrial-themed interiors concept features a mix of green shades, earthy tones and modern black accessories with nods to the site's history as the well-renowned drink's manufacturing site.
Claire Blenkin, Head of Sales at Sovereign, commented: "The new apartments at Horlicks Quarter are ideal for anyone looking to move or take that first step onto the property ladder. With our brand-new show apartment now open and ready to view, we're able to showcase exactly the types of properties on offer here and provide house hunters with the opportunity to visualise what their life at Horlicks Quarter will look like. Buyers are also able to select their perfect plot, with some of our apartments here offering stunning views over the nearby memorial gardens.
"We'd encourage anyone considering a new home at Horlicks Quarter to register their interest now. We will then get in touch to help guide purchasers through each stage of the simple application process."
Shared ownership enables home buyers over the age of 18, with a household income of less than £80,000 to purchase a home. Sovereign partners with the purchaser to share the cost of buying the home. The buyer pays for the part they can afford, and Sovereign pays for the proportion that's left, meaning house hunters can buy their own home without needing to stretch for a large deposit, or increase their shares in their property. The homeowner pays a reduced rent and monthly service charge to Sovereign for the percentage of the property they own.
To find out more about the apartments available at Horlicks Quarter, please visit: https://www.sovereignliving.org.uk/developments/sovereign-at-the-horlicks-quarter.