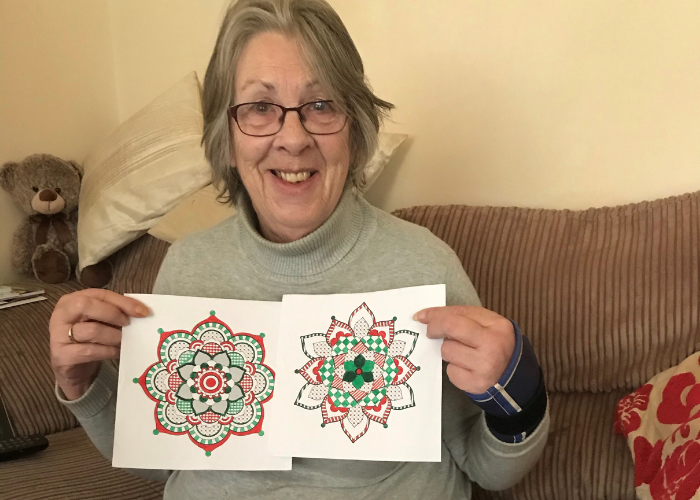 Activity packs brighten up the day
17th November 2020
Sovereign Housing Association is giving out activity packs to help some of its most vulnerable residents get through the long days ahead.
The activity packs are a joint initiative between Sovereign's Concierge and Communities teams. Thanks to Sovereign's Communities Fund over 500 activity packs have been purchased for residents in their housing for older people schemes.
Earlier this year around 200 packs were received by vulnerable residents.
The packs contain colouring pads, paint by numbers, puzzles, pencils and pens. They are being delivered to the most vulnerable and needy residents in Sovereign's housing for older people schemes in Devon, Isle of Wight, Hampshire, Oxfordshire and Berkshire.
Tracey Scutter, Wellbeing Officer at Sovereign, worked with a supplier on content and quantities for delivery before the Concierge team hand delivered the parcels to the residents.
Tracey said: "This is the second bundle of packs that our Concierge team have distributed to our residents since March. With the support of our Communities team it's really made a difference to our residents, some of whom have found the last few months quite difficult. It's been great all working together as one!"
The initial idea for the packs came from Diane Humphries, Community Development Officer for Sovereign, who said: "It's been fabulous working alongside other Sovereign teams on this. It's amazing what we can achieve together, and I know the activity packs will be most welcome by residents at this time."
Residents have been highly appreciative. Lesley Sarginson from Dorset said: "These packs are lovely, it takes me right back to when I was at school and when I used to be good at art – I'm going to make these into Christmas cards!'