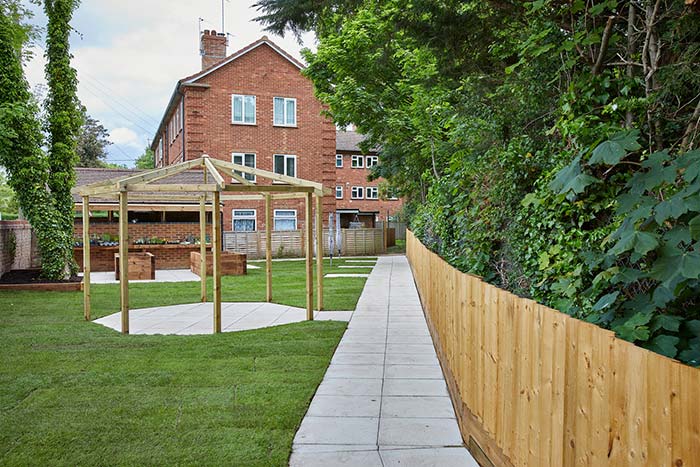 Abingdon spaces get £33.4k makeover, thanks to Sovereign
Sovereign Housing Association has worked alongside Abingdon residents to transform the outdoor spaces where they live.
Now in its third year, the Your Community Your Choice (YCYC) programme is back celebrating the completion of four more outdoor transformations. Residents living in Brookside, Collingwood Close, Gainsborough Green and Nicholson House have each received a share of over £33.4k through the programme.
YCYC lets residents submit their project proposals, with the public then able to vote for the entries they want to receive funding. Projects can receive up to £10k from Sovereign towards the cost of improving or creating green spaces, starting an allotment, or increasing biodiversity.
Residents from more than fifty homes will benefit from the works completed by Sovereign's maintenance contractor Ground Control.
Details of the four transformations are as follows:
Brookside's garden space has been completely renovated with new seating, a pagoda, raised beds, an area for children to play, plus more accessible washing lines.
Nicholson House residents are enjoying a new, permanent gazebo;
Collingwood Close has been gifted four benches for rest, relaxation and socialising; and
Gainsborough Green has had dying trees removed and new ones planted, to encourage nature and biodiversity.
Commenting on the transformation one resident said: "This garden will bring our little community together and give us more space to enjoy with neighbours.
"It provides a safe and clean environment for everyone to play in and we're looking forward to using it."
Jenny Bowley, Community Development Officer and YCYC Project Manager said: It's great to see these four projects go from an idea to reality. Your Community Your Choice is all about residents taking the lead to shape their outdoor spaces, as they did in Abingdon."
"We know first-hand the importance of listening and engaging with our customers to shape their communities. Our residents are rightly passionate about their new outdoor spaces, and I hope they will enjoy them for many years to come."
Sophie Childs, Relationship Manager for Housing at Ground Control, said: "We are thrilled to collaborate with Sovereign Housing Association and its residents to support the community of Abingdon in this important green space project.
"This is another great example of how we are putting our experience of nature-positive grounds maintenance and landscaping to good use, working in partnership with like-minded organisations to care for our environment and deliver positive impacts.
"As the Environment Bill and Levelling Up Agenda have jointly asserted, we all need to work together to reverse nature's decline and restore local pride in our community spaces. By empowering local residents to share their outside space aspirations and creating and maintaining sustainable communal landscapes, we take practical action to not only boost biodiversity, but also resident health and wellbeing."
For more information on Sovereign's Your Community Your Choice programme, please visit www.sovereign.org.uk/your-community-your-choice