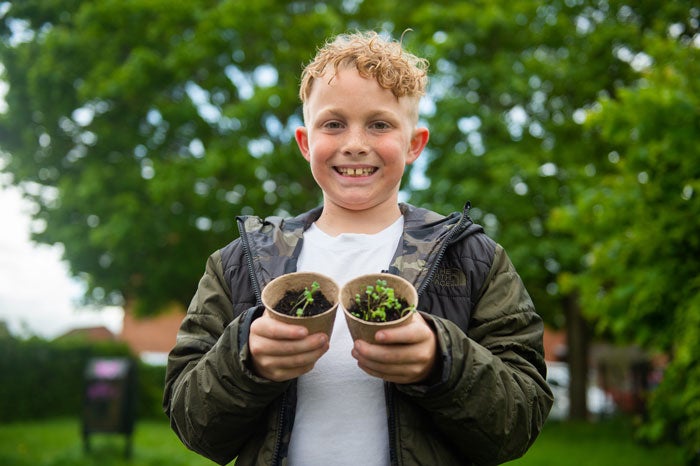 £2k pick me up for Mini-Ambassadors community action programme
A group of 13 young people from Bristol aged 5-10 years old are coming out of lockdown raring to go on community projects, thanks to funding of £2,000 from Clarion Futures, the charitable foundation of Clarion Housing Group, and support from Sovereign Housing Association.
Despite the restrictions of COVID-19, the group of Mini-Ambassadors have kickstarted a number of social action projects, with ideas developed and delivered by the children and young people attending the group sessions.
The young people got out despite the rain last week, to carry out litter picking in their local community in Whitchurch, picking up plenty of discarded facemasks along with other rubbish.
The Mini-Ambassadors said: "We may be making a small difference, but it's a strong one!"
The Clarion-designed 'Mini Community Ambassador Programme' - run by youth charity Young Bristol and delivered from a mobile youth club - was funded £5,000 by Sovereign Housing Association back in August 2020 and has recently been boosted by a further £2,000 by Clarion Futures to keep the project running until the end of July 2021.
Young Bristol also received £5,000 from Clarion Futures and the #iwill Fund (a joint investment between The National Lottery Community Fund and Department for Digital, Culture, Media and Sport) back in September 2020 to run a Community Ambassadors Programme that supports young people aged 11-25.
Matt Parsonage, Head of Communities at Clarion Futures, said: "We're delighted to be building on our partnership with the #iwill Fund and expanding our successful social action programmes by working with other housing associations. Like Sovereign, we're strongly committed to embedding youth social action in our communities and continuing to give young people a voice on issues affecting them.
"Our Mini-Ambassadors model shows that you are never too young to start your social action journey, with children as young as five making a difference in their community. We are excited to see the impact that the young people on Young Bristol's Mini Community Ambassador programme make in their neighbourhood and beyond."
The #iwill Fund is a £50 million joint investment from The National Lottery Community Fund and the Department for Digital, Culture, Media and Sport (DCMS) to support young people to access high quality social action opportunities. Clarion Futures is acting as a match funder and awarding grants on behalf of the #iwill Fund.
National Lottery players raise £30 million a week for good causes. During 2020, The National Lottery Community Fund distributed over £650 million to community projects across the UK.
Daisy Mummery, Community Development Officer for Sovereign, said: "Seeing Young Bristol able to deliver another 10 sessions for young people, creating activities that bring them together from across the city really fits with our aims of building strong communities. The funding will also support day trips to local community spaces like the Nightingale Reserve in Brislington, providing the opportunity for young people to socialise, share their experiences of COVID-19, and explore nature learning how they as a group they can work to make a difference in the world."
Lucy Saunders, Development and Fundraising Manager at Young Bristol said: "The original funding from Sovereign Housing and now new additional funding from Clarion Futures towards the Mini Community Ambassadors Programme, will provide much needed face-to-face opportunities for young people following periods of national lockdown; allowing young people to once again take part in positive opportunities, which will not only support their development, but also make a difference in their local community."