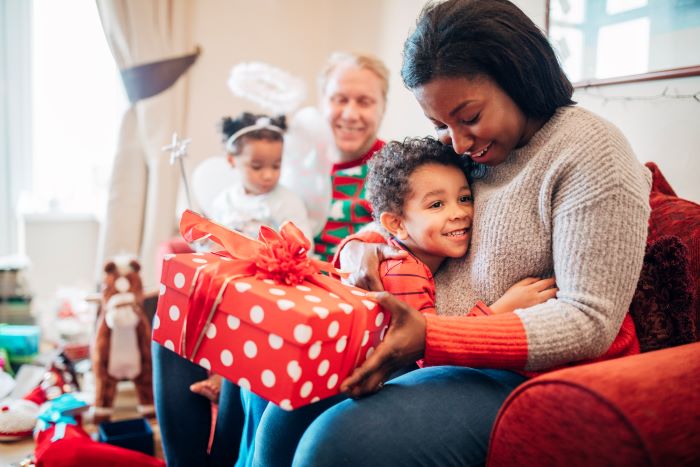 £10k festive cheer for struggling Bristol families
Community-focused and not-for-profit group Mamas Bristol has received a £10k funding boost from Sovereign Housing Association. The fund will support Bradley Stoke families through the cost-of-living crisis and provide a festive cheer this Christmas.
The grant, which the group received through Sovereign's Thriving Communities fund on Crowdfunder, will pay for 30 Christmas dinner food parcels.
These will ensure everyone can enjoy a delicious meal on Christmas day. Families will also receive recipes, budgeting and 'how to' tips, as well as a small gift.
Warm space
Looking beyond Christmas, the funding will help Mamas Bristol to increase its 'Stay and Play' sessions from once a week to three times a week.
Families will be able to enjoy a warm and safe space for children to play, including a sensory den for children with additional needs.
The warm community spaces will also help adults save money on their bills, allowing them to stay warm at a time of rising energy prices. It is estimated that around 80 families will benefit from this service each week.
Community food larder
The grant funding is set to support the Mamas community food larder plans too.
Still in its early stages, the group plans to provide tins, long-life food and dried goods for people to take home and have as a meal.
This will be an ongoing project, with further funding required. Families struggling to eat will be supported with parcels and have the opportunity to develop their knowledge of recipes, ingredients and their costs.
Kate Sheppard, Sovereign's Community Development Officer, said: "Sovereign's timely action to champion our customers through this cost-of-living crisis has meant we've been able to support this fantastic project.
"We have a dedicated webpage with details of the national and local support available for individuals and communities. We're delighted to be increasing our support at this crucial time and helping those most in need."
Kelsey Booy, Co-Director of Mamas Bristol, said: "We want to support families who find themselves in need, whatever that need may be. We do not want to see families having to choose between heating or eating and we want to spread the spirit and cheer of Christmas.
"We don't judge 'need', we have no criteria and we have an experienced friendly team on hand to assist all.
"The Mamas Bristol Team cannot thank Sovereign enough for what they have done for us and the community. We can confidently go into 2023 knowing we can provide support for another year at the Hub."
Simon Deverell, Creative Director and Founder at Crowdfunder, added: "The cost-of-living crisis is putting a huge strain on communities across the country. Here at Crowdfunder, we are delighted to see good causes like Mamas Bristol get the funding they need to help their community. The extra funding they have received from Sovereign Housing Association will mean that they can support even more people during this incredibly difficult time."
Details of the support available to Sovereign customers can be found here: www.sovereign.org.uk/col
For more information on Mamas Bristol, please visit Mamas Bristol CIC: Admin Inbox on Facebook.
To apply for community grants through Sovereign's Thriving Community fund, please visit www.crowdfunder.co.uk/funds/sovereign-communities