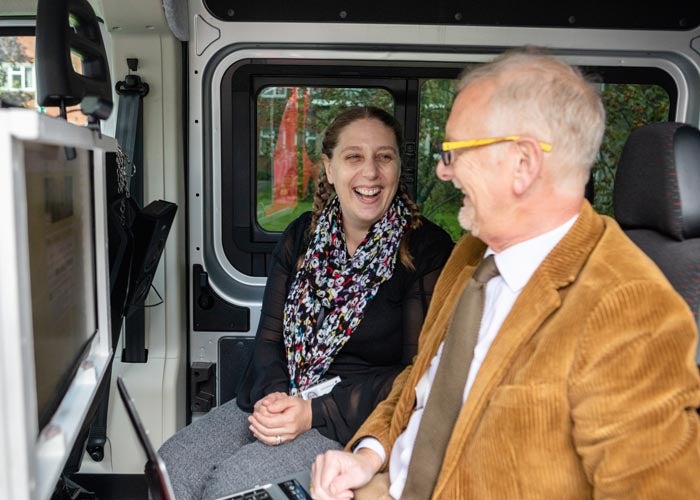 Tech bus connects older generation
We're supporting the launch of a new technology bus for older residents in Newbury and Thatcham.
We gave £3,000 from our community fund with The Good Exchange to Volunteer Centre West Berkshire (VCWB) and Age Concern Newbury and District's 'Befriend and Activate Partnership'.
When it launches in March, the 'Befriend Bus', kitted out with a laptop, screen and speakers, will drive out to residents living in sheltered housing, social housing developments and other areas submitted through referrals in Newbury and Thatcham.
The Befriend Bus coordinator will help them connect with their loved ones using FaceTime, which they can do from the comfort of the bus or their home.
The coordinator will also encourage social interaction with fellow residents and make arrangements for them to become regular shopping trip passengers.
The bus plans to do weekly visits and hopes to support around 50 people in the community.
Garry Poulson, Director of VCWB, said: "As we grow older, our world can start to shrink and without regular social interaction, loneliness can set in.
"But because of Sovereign, and other's, support, our Befriend Bus will give older people opportunities to speak with loved ones, meet new friends and take part in regular activities.
"Residents in Newbury and Thatcham should contact Paul Wilding, our Handybus Coordinator, on 01635 37111 or email handybus@vcwb.org.uk for more details."
Rachel Peters, our Community Development Officer, commented: "Lockdown showed us just how important technology is if we are to stay connected with friends, loved ones and society.
"In this digital world, older people can get left behind, but the bus will give older people support to get connected and be socially included."
Julian May, Head of Collaborative Funding for The Good Exchange, added: "In addition to the £3,000 awarded by Sovereign, £6,372 was raised via The Good Exchange platform from grants given by Greenham Trust and Miss Lawrence Trust and from donations made by members of the public.
"This clearly demonstrates the benefits of The Good Exchange's collaborative funding approach and we look forward to continuing to help the local charitable sector in this way going forwards."
Notes to editor
About Volunteer Centre West Berkshire
Volunteer Centre West Berkshire was established in 1974. The charity provides a range of information, advice and guidance around volunteering and community services.
About Age Concern Newbury and District
Age Concern Newbury & District runs The Fair Close Centre in Newbury supporting over 65s. The Centre is a vibrant social hub with fun, food and friendship at the heart of everything we do. Our restaurant serves incredibly good value two course lunches daily and we deliver around 400+ meals on wheels every week. A wide range of activities are available and we provide door to door minibus transport. We also have an onsite hairdresser and footcare specialist and recently launched a Men's Shed. We are working closely with other local charities including Volunteer Centre West Berkshire, Age UK Berkshire and Corn Exchange Newbury to relaunch and refresh our services after the pandemic.
About The Good Exchange
The Good Exchange is a not-for-profit fundraising platform which makes it easy for charitable organisations to raise money through Greenham Trust, grants from other funders, and donations from the general public. As the only platform to bring together grant-making, donations, charitable projects and fundraising in one place, the automated matching system with its simple single on-line application form has revolutionised charitable giving in its local area, making it more accessible, transparent and collaborative. https://thegoodexchange.com