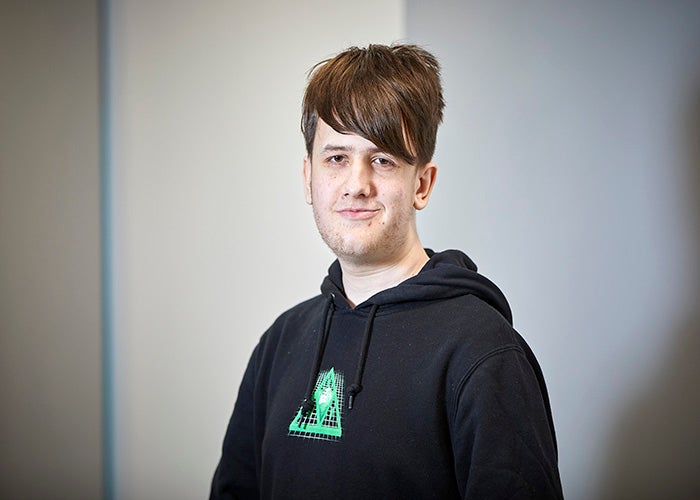 Meet our Kickstarter Aaron Marcham
Aaron Marcham, 19
Prior to starting at Sovereign, Aaron, 19, from Thatcham, had tried working with a company offering technical support to other companies, solving IT issues. Although he was passionate about tech, the job wasn't the quite the right fit for him. Working as a Housing Data Admin Assistant however, has opened all kinds of avenues for him to explore his passion.
"Before my Kickstart role I completed quite a few courses and some work experience through the West Berks Training Consortium but I didn't quite get to grips with it. I couldn't quite get the hang of the training and didn't feel fully informed. I'd also tried a couple of positions in retail, working night shifts in a supermarket and I started a course in computer science, but it felt too basic, like I was covering the same topics as I had at school.
"I went on Universal Credit for a while, just to get back on my feet after a few anxiety problems, and I was told about the scheme by my work coach. I was interested from the start and I have felt so welcomed into Sovereign, everyone has been there for me, and the training has been excellent. This has been the main difference – that I always felt able to ask questions, and knew who to contact if I needed help.
"My main tasks are data cleansing tasks, completing missing information on our customers. We have more than 60,000 homes, so that's a lot of records to keep tidy and up to date. We need to know things like who is the next of kin, what is their best contact number, what is their email? It's been my job to call up and verify the missing pieces of information. It was hard the first few times to call, but now I'm totally alright with it.
"I also add new people to the system or change family members living in a household, that kind of thing. Recently I also helped with the roll out of Dynamics which I found really fascinating. My Kickstart Manager Gez never stops pushing me – in a good way – to think about the things I'm really interested in. With another six months to go now, I can transition from working from home back into an office, and think further about the positions I want to shadow within Sovereign.
"If anyone out there hears about Kickstart and is wondering what it is, I would highly recommend it. When I went in, I was struggling with skills, but I've had so much training and help with my cv, I can't tell you how good it's been."