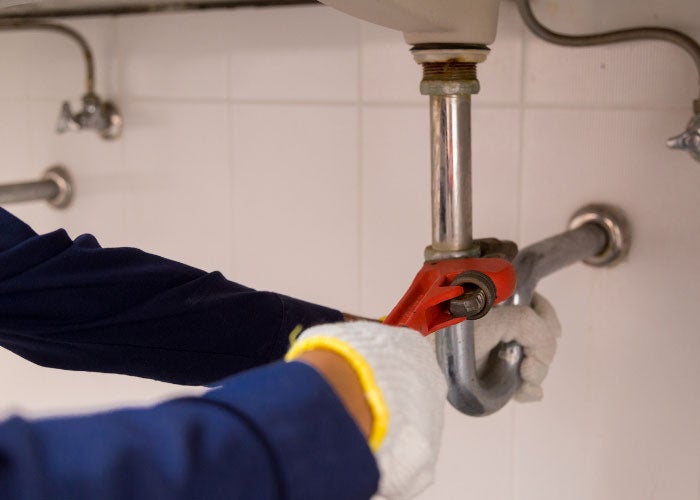 Getting to know Simone, Trainee Plumber
Simone is a trainee plumber at Sovereign. She explains why this new direction was the right one for her.
"I am a person who loves to learn – I really don't like standing still, and if something grabs me I'm not afraid to make a change. That said, deciding to become a plumber was pretty out there, even for me.
I spent seven years with the Saracens rugby team, working for their charity as a senior development manager. I promoted health and well-being through sports development. Then I passed a couple of years as a teaching assistant in a primary school, so I went from an all-male environment, to all-female – and now I'm back to predominately male!
But that is changing – and that's one of the reasons I was really excited to come and work for Sovereign. From the outset, I have been really reassured by the men and and women who work here, that it's not who you are, but what you can do that counts. I read up on the values and policies in place at Sovereign, which state that equality and diversity are important to it as an organisation – and as a mixed race gay woman I am so pleased to see that being lived out in reality.
My switch to plumbing was not entirely planned. In fact, I'd wanted to be a stay at home mum, but unfortunately, in November 2018, our little boy died shortly after his birth. It was a devastating time.
The time after that was difficult. But my wife Emily helped me – and supported me when I told her I'd decided I needed another change of direction, a new focus, if you like.
I'd always done DIY at home – it made me ridiculously frustrated that I would have to pay other people to come and do things that I thought I could handle, and so that's why in the end I went for plumbing. It's logical and it's problem solving, things that I know I'm good at.
I applied for a few different apprenticeships at around the same time, but I really liked Sovereign's emphasis on women in trade and that being older – and 'unskilled' - was not a barrier to being interviewed.
To be honest, I even enjoyed the interview. We did a practical task to dismantle and reconnect pipework under a sink – and there was a chance to speak to current apprentices. I chatted with women already on the team and that made me even more keen.
So now here I am – I'm going to get an NVQ and Diploma in Plumbing from South Gloucestershire College. At the same time I'm getting paid to gain experience – both in empty homes, working fixing up properties for new residents to move into, using carpentry, decorating, multi-skilling, and plumbing – but also problem-solving with my mentor on the response team. I know it's not good for our residents, but I have to say I do love tracking down the source of a mystery leak!
Working for Sovereign has been an eye-opener. Although I was brought up in a council house myself, this job has reminded me once more how important having a home is – however people choose to run it or keep it or live in it, we're all different, but we all deserve the same thing. As a result I also realise how important the job that I do is. When I'm fixing up their plumbing, I'm also contributing what I can to making someone's life easier. It's a good feeling to be able to do that for people."
If you found this case study helpful and you'd like to use it for your own research or media work, please get in touch with press.office@sovereign.org.uk