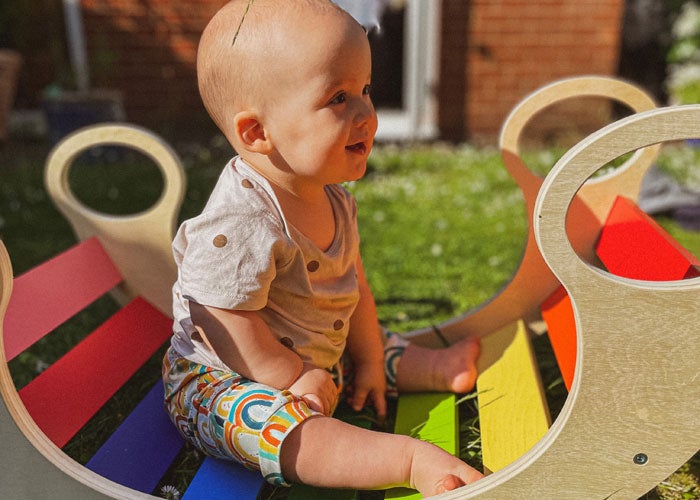 From happy hour to nappy hour Sovereign involvement encourages entrepreneurship
Motherhood brought big changes for Daynah, when she realised that she wanted to become her own boss and leave the world of pub management behind. She said:
"My partner and I met when we were both working in the hospitality trade, and for several years we moved around together, managing different pubs. But even before the pandemic, the pub trade was suffering and once our son Teddy came along we knew that we wanted to settle in one place and pursue different careers. This was when we moved into our Sovereign home.
"When Teddy arrived I couldn't believe the amount of stuff we needed for a baby – and the amount of choice out there. On top of that I was blown away by how expensive things can be, particularly if you want to adopt a more eco-friendly approach. It was this that gave me the idea for my business, Nursery Corner, where I sell all sorts of baby goods, with a focus on those that are reusable or made from more natural materials.
"Lots of my work is focused online, I use Instagram and other channels to publicise what we've got on offer, it means I can work around Teddy. But sometimes I do go out to show off my products at live events.
"I was thinking about taking part in the Festival of Ideas, an in-person event at Trowbridge Town Hall designed to encourage young entrepreneurs to come and show off their business ideas, both potential and actual. This was when I first came across Henry from Sovereign's Communities team, as they had sponsored the festival.
"I was keen to take part, but I was also anxious about how I would manage it. Usually, I take my mum with me to look after Teddy, my little boy, when I'm working, but on this occasion, she couldn't make it. Henry reassured me that he'd be available to help me get set up, and calmed my nerves about what to expect.
"The event was great, it was good to be back out in the world, to meet people and speak to them about my business and my sustainability aims. Since the festival took place I've also met with a member of Sovereign's employment and training team to apply for a grant to improve my website.
"This is because I'm expanding what I currently sell, by designing my own range of reusable nappies. Babies use around 5,000 disposable nappies across their lifetime – which take around 500 years to completely break down. But using reusable nappies can be daunting – they're expensive to buy to start off with, and can be a little tricky to get the hang of – if you don't know what's out there.
"I've tried a lot of different types and really feel confident that I could advise others on the best option. I want to work with my local authority to find a way to make them available to a wider group of people. The great thing is about reusables is that they can go to siblings, neighbours, friends after you're done with them, rather than being chucked into landfill.
"Sovereign has really given our family a boost – both by supporting me to expand my business, and by talking with my partner, who's training as a carpenter – he's now considering whether there might be a role for him within Sovereign's trade team, as Sovereign improves its homes to meet the new Homes and Place Standard.
"I hadn't realised all the different services that are on offer from Sovereign – and would really encourage other customers to get in touch and see what support is on offer for them too."