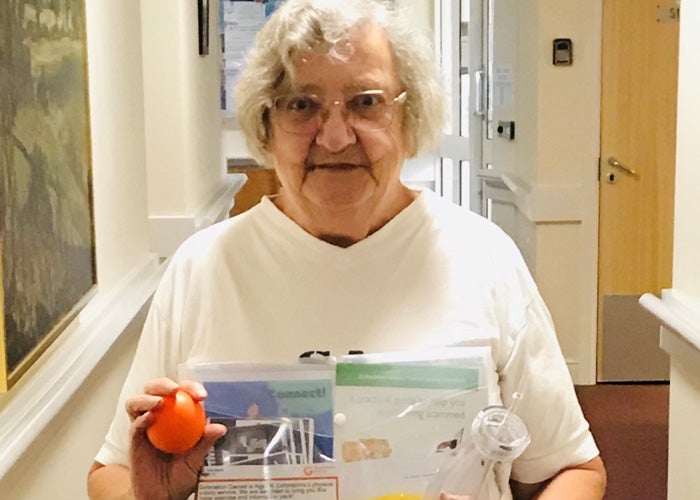 Challenging the effects of covid
Like millions of others around the country, our older residents faced not just lockdown earlier this year, but the need to shield.
This isolation meant many people found that they'd lost some of their physical health from being less active and also their confidence when faced with engaging with the outside world again.
To help with this, we worked with the Royal Voluntary Service (RVS) in Banbury to create activity packs for residents in our Housing for Older People schemes in the area.
These were designed to encourage the physical and mental health of our residents. It was important that we did this for where each resident was in their journey out of lockdown, so the packs included hydration bottles, an exercise booklet, resistance bands, stress balls and literature to encourage and empower.
The response from residents who received the packs was overwhelmingly positive, with one saying: "Thank you for the "goodie bag". Many hours must have gone into getting everything together. It is nice to feel you are doing all you can to make difficult time easier for us "golden oldies."
After the resources from the packs had been used for some time, more messages came in:
Resident: "[The pack] has made me think about getting more active again especially following recent health issues. My Scheme Officer has told me about the upcoming Health MOT sessions / seated exercise classes, and I will certainly be signing up to this."
Resident: "A super pack, very useful and so thoughtful of Sovereign. My mobility has really taken a decline over the lockdowns and the pack was greatly welcomed and came at an ideal time when I was just trying to look at ways to improve my exercise and walking."
Resident: "Thank you Sovereign, a very interesting and very useful pack. The water bottle has been a god send as I know it's important that I really keep my fluid levels up and really struggled with this before. Now I just keep filling up my bottle and off I go, everywhere I go, my bottle goes too."
Jenny Bowley, Community Development Officer for Sovereign, who worked with the RVS on the project, said: "I am so pleased that this project benefited 72 of our residents. We heard through lockdown calls how hard shielding was and hoped things would improve after the restrictions ended. For some that was more challenging - people had lost their confidence and physically were deconditioned.
"These packs were a great way to help those residents and put them in touch with other partners in their community."