MP David Johnston visits carbon-zero affordable eco-homes in Oxfordshire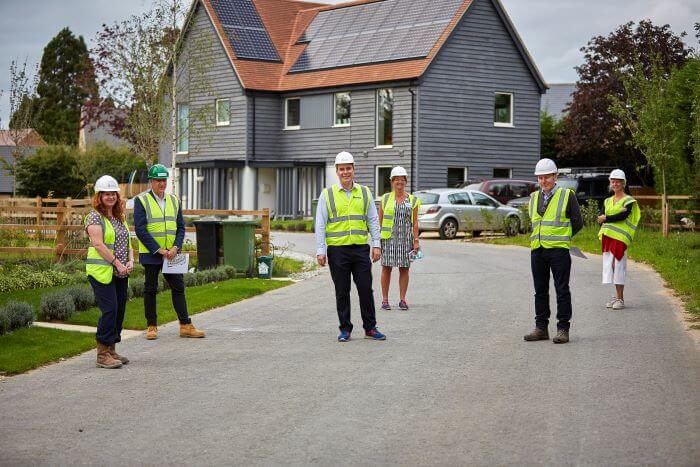 24th September 2020
MP for Wantage, David Johnston, was left impressed and inspired by Sovereign Housing Association's nine affordable carbon-zero homes during a recent visit to Springfield Meadows, the stylish 25 home development near Abingdon in Oxfordshire.
Set in a stunning rural location, the homes at Springfield Meadows are straight from the factory floor. Elegant and well-designed, these homes don't compromise on looks to gain eco-friendly status and it's what's underneath that marks them as different from the norm.
Beautiful and spacious, all 25 homes at Springfield Meadows are built in a factory using closed panel Timber Frames with hemp and lime mix insulation creating affordable eco-homes that are incredibly cheap to run and carbon-zero in construction. Once built, they're moved on-site for construction.
Mr Johnston was keen to meet the faces behind this unusual development and discover more about the fantastic environmental benefits of this new way of building.
Sovereign's nine affordable homes at the development - six for affordable rent and three for shared ownership – makes Sovereign one of the few affordable housing providers building carbon zero homes in the UK, and the only one using Greencore's construction methods.
Alex Brooks, Development Manager, Sovereign, said, "It's fantastic to see residents moving into these new eco-homes. We're proud that our development at Springfield Meadows is helping us to achieve our environmental development ambitions and providing new affordable homes in an area where they're much-needed. It's great to know that we're building the right homes in the right places."
David Johnston, MP for Wantage, said, "It was inspiring to see what has been achieved at the Springfield Meadow development - houses built with net-zero carbon as well as being net-zero to use, at little extra cost to the traditional way of building homes.
"I commend what Greencore have designed and Sovereign for purchasing some of them so that those on lower-incomes can experience the housing of the future."
Ian Pritchett, Managing Director, Greencore Construction, said, "A normal home will emit around five tonnes of carbon a year, using this construction, these homes at Springfield Meadows will be carbon zero.
"If we start building things with bio-based materials that perform better and have low carbon footprints, we can start to make a serious difference to climate change."
"Our homes at Springfield Meadows have been awarded the One Planet Living Global Leader status by the leading environmental charity, Bioregional, making these homes one of the most sustainable places to live in the UK."