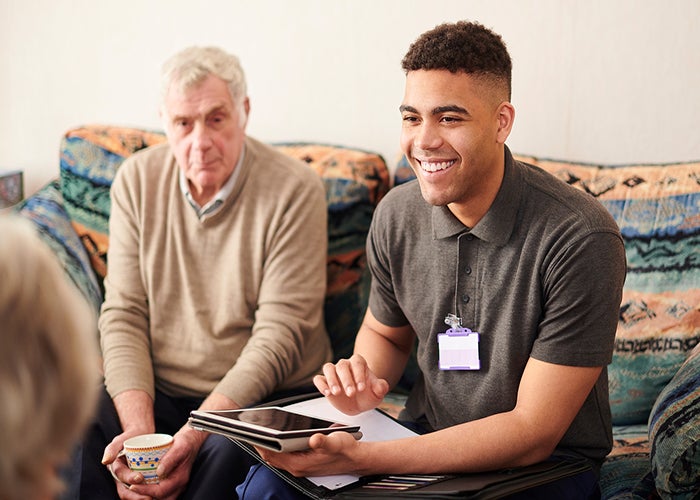 Supported housing really is the taxpayer's friend
Last year we celebrated Starts at Home Day and the vital contribution supported housing makes to people up and down the country. The truth is - supported housing has a much bigger impact than you probably realise.
We are a matter of days away from finding out who will be the next Prime Minister, and what this means for supported housing and care services is anyone's guess.
With inflation hitting a 40-year high and difficult decisions on the horizon, our job is to support our customers and make sure that those who need extra care and support do not lose out.
What is meant by the phrase supported housing is subject to debate and will vary depending on who you speak to. Broadly speaking, it is designed for customers which have diverse and often complex needs. Support services such as health services, money and debt advice services, and employment and training services are provided alongside accommodation to help customers live independently.
Supported housing allows people to live independent lives and be a part of their community. As a provider of supported housing, we play a vital role in providing a safe home for our customers who need these services and in doing so, we help to tackle social exclusion and promote thriving communities.
As models go, supported housing can work well for individuals living with mental health conditions, those with learning difficulties, and people fleeing domestic abuse. When you read this, and you begin to appreciate the sorts of individuals who might benefit from supported housing, it's clear there is a very strong moral argument for investing in supported housing. But what is less well known is the economic case.
Not investing in supported housing has a significant knock-on effect on the economy. It means more pressure is put on the country's health services, the criminal justice system, and ultimately, the public purse.
When support services are stripped back, it can lead to anti-social behaviour which has a devastating, and in some cases, long-lasting impact on communities. The loss of support services can also mean that more individuals end up staying in hospital simply because they cannot live in their own home, not because they actually need hospital treatment. This all costs the taxpayer dearly.
Statistics from the National Housing Federation help to quantify this and provide some context. Their figure estimates that supported housing saves the British taxpayer on average £940 per resident each year. This is because the support services provided reduce the demand on public sector services.
According to Homeless Link, at any one time, over 600,000 people in England rely on supported housing. When you consider all this together, it's clear there are some serious savings to be made.
The fact that supported housing is beneficial for the taxpayer is a strong argument at the best of times. But when you think back to the recent pressure on the NHS, combined with today's fragile and unpredictable economy, this message becomes even more compelling. We need to invest more in supported housing, and we need to do it now to meet the ever-increasing demand.
Thankfully there have been some positive legislative developments which have helped to raise the profile of supported housing and highlight its value. The introduction of the Domestic Abuse Act 2021 is one such example. It set out why local authorities will often need to commission different types of services and accommodation.
The Health and Social Care White Paper went further with its ten-year vision for adult social care. But what is most encouraging is the fact this paper outlined plans to build more specialist support accommodation and pledged funding - which is exactly what service providers such as Sovereign wanted to hear.
We can probably all agree that times are uncertain right now. But what is certain and unwavering is Sovereign's vision and commitment to provide more supported housing.
As we look to the future, it is imperative that whoever becomes the next Prime Minister continues to build on the strategy introduced under the last government. The candidate who enters Number 10 must form a government which sees supported housing for what it is: a 'win-win' for those in need of support, and a positive intervention on behalf of the taxpayer.