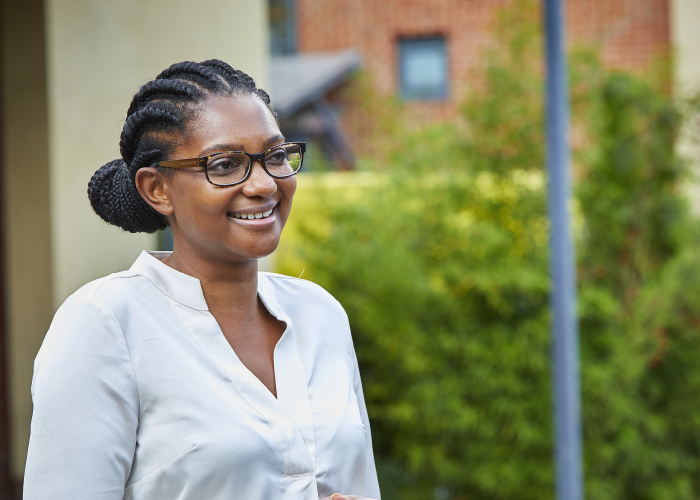 Shared homes, shared experiences, shared learning
First published by HQN in Sept 2021 – republished to mark World Homelessness Day 10 October.
In Basingstoke and Deane there is an established 'single homeless pathway' that sees around 100 people move into around 65 different supported accommodation places a year. While these services provide much-needed relief from homelessness, move-on options are limited, causing clients to spend extended periods of time in hostels and other supported placements. This can create a feeling of unsettlement not knowing when or where their next move will be and at times almost a fear of leaving or moving on again.
For Basingstoke and Deane Borough Council (BDBC), our team at Sovereign Housing Association and the charity Outcome Home the need for move-on accommodation became even more apparent during the 'Everyone In' scheme of March 2020, with 169 people being placed in emergency accommodation. Because single people make up two thirds of the housing register and, because for most people under 35, maintaining their own place isn't a viable option due to affordability, we identified a gap in provision for non-hostel based, single person, supported accommodation for 'move-on' purposes. In other words, shared apartments.
From talking to people with lived experience, hostel accommodation can often feel both too chaotic and too regimented at the same time, with rules that can feel restrictive and stifling – and 'trouble' as people break those rules. Others shared feelings of isolation after moving into their own homes, finding it a lonely experience. Both of these issues can lead to tenancy failure.
In response, BDBC and Outcome Home formed a unique venture with us, based on the shared belief that some individuals could greatly benefit from shared housing, which allows manageable social contact, consistent support, and develops essential life skills. Thanks to this multi-agency approach, where trauma-informed care is delivered in a psychologically informed environment, clients can take charge of their lives and be empowered to maintain future accommodation, if and when they choose to move on. By preventing repeat homelessness, the strain on other services is lessened with no time pressure to leave, people can focus on personally improving, instead of simply surviving.
Peer mentoring - from those who have experienced homelessness themselves - is the unique part of this support offering. Peers should be involved from the start of the project, engaging with planning the design and layout of buildings, helping with funding bids, shaping processes, and helping to identify the appropriate clients to move in.
Once clients move in, Sovereign provides housing-related support, one half of Outcome Home provides 15 hours per week of practical and emotional support from a lived experience perspective through peer mentors, and the other provides emotional and group reflective practice delivered by psychologists.
The properties
Nova, a semi-detached house, was successfully refurbished to create a home for three clients. Remodelled to create open communal and closed private spaces, with a garage converted into a lounge, we also secured further funding through the Next Steps Accommodation Fund to extend the service to another two properties, providing an additional six bedrooms from two four bed flats.
By creating additional communal areas, we hope to encourage a sense of togetherness: kitchen-dining spaces enable sociable cooking and meals together; the comfortable lounge areas enable meeting and relaxation; the large bedrooms with lockable doors provide a personal retreat, privacy and security.
Using bright colours with quality furniture we've created a warm, homely environment. We involved clients in choosing furniture and colour schemes, giving them choice and control over their home. We also provide starter toiletry provisions and food packs.
In September 2020, Nova welcomed its first occupant and Blackdown our other apartments opened in June 2021. Staggered sign-ups allowed for social distancing and avoided overwhelming clients during an already-stressful transitional period of change and upheaval.
The service
We've moved away from traditional assessments that can often re-traumatise by making clients re-tell their story to yet another service. Peer mentors and psychologists engage with potential clients from the outset. Talking to them before they move-in, gauging if the service is the right place for them, helping to build rapport on the sometimes tricky topics like challenging behaviours. Peers are able to use their own personal experiences of what works and importantly what doesn't in terms of support. We put emphasis on matching personalities to create a successful household and by giving autonomy on how their home works, whether they want house rules or cleaning rotas, clients can govern how they would like manage their home.
Roles between Sovereign and peers are interchangeable, with the adoption of a 'right person for the right person' approach, providing tailored and person-centric support. We've embedded a psychologically/trauma informed approach by creating the right living environment to service delivery, taking into account the psychological makeup – the thinking, emotions, personalities and past experience of our clients to deliver our service.
Outcomes
This is a new service, developed and opened during Covid. We've offered homes to nine clients, one has been open for nine months, the other only eight weeks, but clients are already reaping the rewards:
KN has struggled with mental health issues, fear of mistreatment or worsening of symptoms preventing them from even trying to look for a job. Within two weeks of living in Blackdown, they secured a part-time cleaning job. KN hasn't missed a shift and has already been given nightly locking up responsibilities, increased hours due to quality of work, greater self-esteem.
CS has independently re-engaged with their counsellor following an in-depth discussion with their housing coordinator and has expressed the desire to become a peer mentor to give back to those in need from similar backgrounds.
WB openly admitted to having alcohol misuse issues and anger management problems. They've since engaged with Inclusion, an online anger management course and is committed to learning healthy coping mechanisms to prepare for independent living and lessen the impact of their actions on those around them. This is the first time in their life they've received any kind of support.
AR is taking part in volunteer work, gardening.
AC has made positive new friendships with others in the house, whereas previous friendships were based around alcohol consumption, they now engage with alcohol-free house meals.
Clients have benefited from budgeting sessions, from meal planning to money management, resulting in a decrease in the dependency on the foodbank.
To find out more about how we established these shared homes, just drop us a line, to: supportedmanagers@sovereign.org.uk