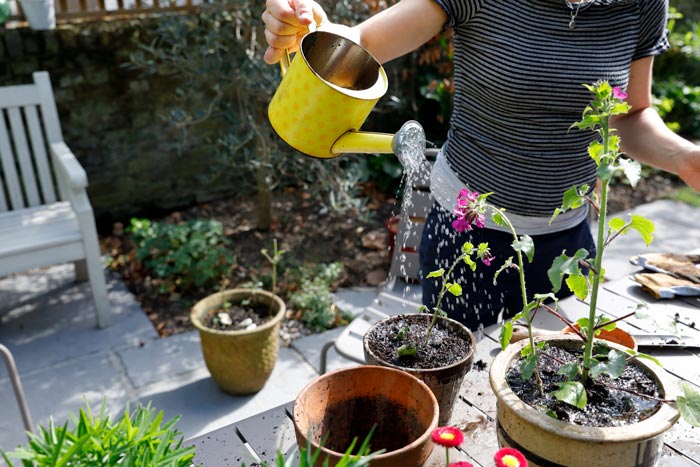 POPCAN puts the fizz back into the community
By Tina Devereux, Member of POPCAN
9 August 2019
Being a carer for my husband is one of the hardest jobs I've ever done. It's really tough seeing someone you love struggle and being the one that they rely on for all of their daily needs.
A few years ago, I have to say I was feeling really quite lonely, like I was stuck in the house all the time. But then one day, a flier dropped through the door from Sovereign, asking people along to a community meeting.
I hesitated at first, I wasn't sure what I would be able to offer. I was fairly new to Westbury, a small town in Wiltshire, having only moved into my Sovereign house a few years before. I wondered whether people would want me to come, offering my opinions. But I decided I would go.
And then, typically, on the day of the first meeting, I got caught up with appointments for my husband and couldn't make it. I was really upset. I dashed over to tell the organisers that I wanted to come, but couldn't. That turned out to be the first time I met Scott Jacobs-Lange, one of Sovereign's Community Development Officers. He was so kind and welcoming, telling me to come back soon – so I did, and I haven't missed a meeting since.
Reclaim the name
Setting a name for our group was a fun challenge. The area we live in has had a pretty rough reputation in the past, and the statistics will tell you that it's still struggling. Some of the older people in our group who lived on the estate before it was redeveloped, remembered when they overheard Penleigh Park being referred to being like a warzone. Initially, they wanted to avoid drawing attention to where we lived by not using the name of our area.
But in the end we thought we needed to put those days behind us, 'reclaim the name' and reclaim the area as our own. We wanted to be a network – something that reached right across the area, actively pulling everyone in from both estates, but we wanted the name to be friendly too – nothing too official – and that's how we arrived at POPCAN. Penleigh and Oldfield Park Community Action Network. I think it's a name that's got great energy and positivity, which are two important factors in our group.
Starting small, growing quickly
We've been going about two years now and in that time we've grown so much. We started out with the small things, but the small things that really matter: litter picks and regular community walkabouts to pick up any problems with graffiti or fences falling down, or problems in communal areas. People got used to seeing us out and about and knew that they could share problems with us.
We've also organised a couple of events in our community. These are 'fun days' – designed for everyone in the area to come along and have a good time – but they're also much more than that. They're a way of enticing people along who might not have met each other before. They're a way of supporting those who we might not reach while they're at work. They're also a way of helping everyone see that they can offer their community something, even if it's just a smile or a 'good morning'.
At our recent POP-up Fun Day about 300 people came along. It was great to see so many new and old faces mingling; and we're so pleased to have had support from Westbury Town Council who pulled out all the stops to help us with our event. We also created a POPCAN 'pledge tree' – because we think that everyone has something to give - and we got promises, from greetings and tidy-ups, to a pledge from the local town council to organise a volunteer day to fix up the local play park.
Building connections
As well as these people-focused activities we've become really involved with trying to bring our actual community spaces back to life. We've seen renovations to the local skate park and we've been working alongside the Westbury (Wilts) Community Project (WCP) to support them to get the old youth centre up and running again.
It closed down about five years ago due to a lack of funding, but we've highlighted the importance of having a place to go, for young people, for parents, for exercise sessions and all sorts – and thanks to our efforts the council are now committed to a major cash investment into the building. We're working really closely with WCP to engage residents to tell us about the kind of activities we can get set up. Local tradespeople are also coming forward to help with the renovations. The opening is set for this winter, we hope.
Spreading the word
As we continue to grow, another important thing for POPCAN is to show others how they can do what we're doing. At our fun day I met a woman from the other side of Westbury. She asked me 'how can we sort out events like this?' and I told her how she could access funding from the council, and how much I'd learned over the last few years, and how it wasn't nearly as scary as it seemed.
Giving her pointers and working with other people in my neighbourhood to see these changes happen has not only given me confidence, it's helped me meet people who are outside my normal day to day life. I now attend council meetings along with other POPCAN members. We speak up for our community - and we're taken seriously!
We're aiming to network with other community groups doing similar things in other areas, as part of Sovereign's support for POPCAN so we can all learn from each other. I also can't wait for the community centre to open, so we can carry supporting those who need it and making Penleigh Park a new name for itself. I genuinely do feel a POPCAN fizz of excitement about what the future holds.
If you've read this blog and are interested in POPCAN, joining a community group or starting your own group in an area where Sovereign provides housing, please email Stevie.Chadwick@sovereign.org.uk