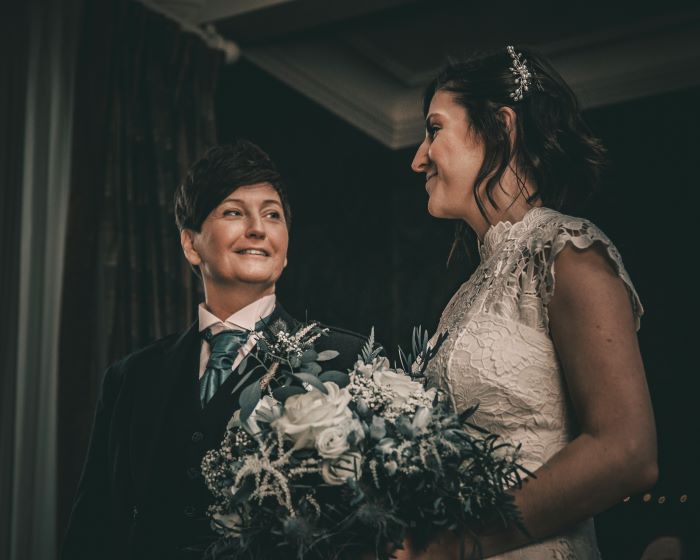 My LGBTQ Journey
By Carol Delaney, Property Services Director
9 February 2021
A version of this has been published in inews
It's LGBT+ History Month, and Sovereign's LGBTQ+ Network Sponsor, Carol Delaney, tells us about her journey.
My journey started in Glasgow in the 70's in a working-class family, where being gay wasn't talked about, let alone accepted. I think I knew from about age 14, but like so many I felt I had to keep it a secret - one I kept to myself until I joined the Women's Royal Army Corp when I was 20. At that time, it was still illegal to be gay in the army, so whilst I found my first girlfriend and a group of gay friends, we had to remain closeted, and hide it away. At one point our secret nearly got out, and I amongst others was bought in for questioning, nearly resulting in being kicked out. Luckily, we were spared, but knew we had to protect each other. The friends I made there remain my friends today, though we're all out of that closet now.
Being told 'gay is wrong', even illegal, had an impact on my confidence to be my authentic self in public, and at work. I met a partner aged 26 but didn't feel like I could come out in a work environment. Most of my colleagues assumed I had a male partner, and I didn't correct them. It wasn't until I joined a procurement consultancy aged 30, where the Managing Director was openly gay, that I felt I could 'come out'. It felt safe to do so, accepted, without consequence. Having that visibility at a senior level had such a positive impact for me.
In the noughties, the equal rights movement was making huge strides in the UK. The London Partnership Register was set up in 2001 by the Mayor of London. It had no legal standing but enabled couples to register their partnerships as a pre-requisite to Civil Partnerships. My partner and I were the 294th couple to register, and when Civil Partnerships became legal on 5 December 2005, we did so 19 days later. When same-sex marriage became legal in the UK in 2014, we converted our Civil Partnership the same year. It was really important to us that we had equal rights, and that we exercised these, not only for ourselves but for our children. We had our first child in 2003, and our second in 2008.
Through this period and up until last year, I'd been working at a senior level in the construction sector. In senior roles this area of work was, and remains, very straight male dominated. There are few female leaders and far fewer openly gay women. Since my mid-30's I decided I needed to be my true self, including in the work arena. I found this not only helped me bring my best to work, but I also found this helped others - seeing an LGBTQ+ leader showing it was OK to be yourself, and it was OK to be gay. I know from personal experience how much of an impact visibility can have on people of all ages.
I met my second wife at work in this sector, and I'm certain that without being my true self there, we wouldn't have found each other. We were both openly gay and bringing our authentic selves to work. She's since told me that having an openly gay Managing Director made her feel much safer about being open in the workplace. We now have our first child on the way!
I'm aware that visibility, representation, discussion and education, are so important to making people feel safe. I continue to learn every day about LGBTQ+ issues. My eldest child came out as transgender when he was 15, and in the 2 years since then has taught me so much about the experiences of trans people. I have my own experiences to draw from, but he's on his own journey and what's important to me is that we learn from each other, recognising that everyone has a story to tell and their own, unique viewpoint.
I joined Sovereign in October 2020 and was given the opportunity to be an LGBTQ+ Sponsor. I immediately recognised the importance of such a role, especially in a leadership position, and understood how I could contribute to supporting others, and raise awareness and visibility. I'm committed to keep learning and educating, listening and sharing, and hope I can make a difference to our people and beyond.