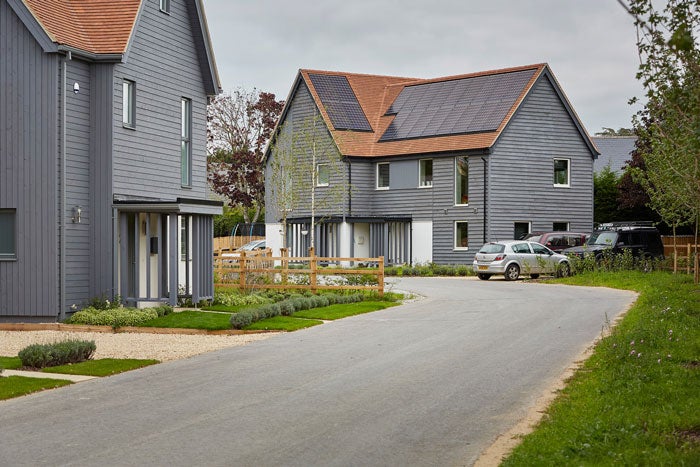 Getting warmer… creating a healthy recipe for SAP C homes
By Jesse Meek, Head of Asset and Innovation
14 November 2019
At Sovereign, we're looking at the standard of all our homes. But we're not just looking at the issues we're facing today, rather we're taking a long-term view, taking into account changes that need to be made over the next thirty years.
Across the UK, 45% of total emissions come from heating air and water in existing buildings. That's why a hugely important part of our new 'Home and Place Standard 2050' involves examining our existing homes as well as new builds.
For Sovereign, that means that around three quarters of the places we'll manage in 2050 are already in existence. New build properties should be designed to meet the top-of-the-range SAP 'A' standard – but some older homes could be a little creaky, hitting the lower end of the scale.
But we want our homes to be environmentally friendly, to save our residents money and be warm and healthy – and that's why we've pledged that all of our homes will be rated SAP 'C' or above by 2035.
We estimate that keeping this pledge will mean an investment of around £6m per year, as we make changes to around 16,000 properties, focused entirely on energy efficiency.
Research from the Chief Medical Officer estimates that every £1 spent on energy in homes gives 42p back to the NHS – essentially because people are warm, they're less likely to fall ill, and their mental health and well-being is improved.
We've been running a pilot with smart boilers at multiple locations across our geography – where the boilers send data directly to our teams on usage and issues, enabling us to fix problems before they take hold. Our residents say that the new tech has already made a huge difference to them, as their homes are warmer and their fuel bills have halved.
Getting started
Making sure that we access funding for this work is essential. We've already used a combination of Warm Homes and Renewable Heat Incentive cash to upgrade more than 200 homes this year, changing inefficient electric, oil or solid fuel heating for air source heat pumps (ASHP). We'll continue to do more of this.
But robust data is essential – because there is no one size fits all solution. Each home has different quirks and requirements. That's why we've created a 'healthy homes formula' that takes into account all of the different elements that make up the 'perfect' property. We'll look at fabric and insulation, heating methods, lighting and ventilation.
We'll also take into account geography – whether the property is connected to mains gas or electricity supply, who lives in the home, and whether special adaptations have been made or are needed. And examining planned programmes of work will also be essential – we don't want to end up disrupting work that's only just been carried out.
We're also considering the effects of lifestyle – carpets and decorations are expensive and currently some of our residents struggle to afford them. These items are currently not always provided as standard in existing, new build or leasehold homes - but should they be - a question recently asked by former CIH President Alison Inman. Enhancing our Empty Homes Standards could see us spending another £6m a year on carpets, choices for decoration and showers.
Future hurdles
We're currently working to aspirational government targets for 2035. But recently Theresa May announced that the whole of the UK needs to be carbon neutral by 2050, and the Lib Dems and Greens are also pushing hard to bring change forward. This means we'll all need to be willing early adopters of lower carbon alternatives. We think that'll be a blend of, gas, but possibly hydrogen, electric – ASHP and renewables.
An ageing population also means people will be living longer in their homes. By 2030 a quarter of the population will be over 65 – so we also need to think about homes that are adaptable and flexible, with configurable layouts and smart tech for keeping in touch.
Our customers will have undoubtedly have expectations on us for the future - some we can predict and some we cannot. But what we do know is that we want to have great places where people are proud to live. We're working to give our homes and places that 'something' that gives residents a warm glow, both literally and figuratively, which we think will be worth every penny.
CASE STUDY: 100-year-old home + brand new tech = healthy warm home
Addison Cottage is a pretty red-brick end-of-terrace property, just ten minutes' drive from Blandford Forum. The 100-year old property was built just after the First World War and was named for the MP Christopher Addison, who is credited with starting up the first programme of publicly funded local authority housing schemes.
We took out the old oil heating system and fitted an air source heat pump to create a lovely warm - and environmentally friendly - family home. Up-front costs were £8,500, but we'll be able to claim back £4,500 through funding, which is better value than a full gas central heating swap at £6,000.
The property also boasted cavity wall construction, homes from this period would have been among the first to adopt this new method of building. It meant we were able to improve the wall insulation and make sure that there were no draughts around the doors and double glazing. Our efforts at the home reduced carbon emissions by 38%.