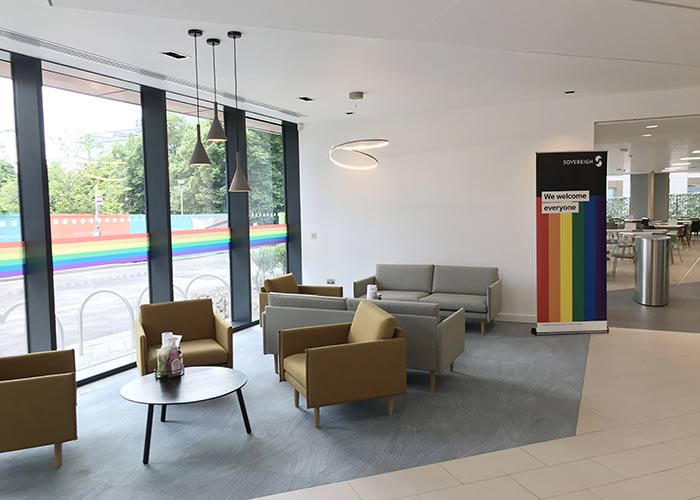 Take PRIDE in being your authentic self
Sally Hyndman, Chief People Officer
8 June 2022
First published by Inside Housing, 1 June 2022
This year marks a significant milestone for the Pride movement and the LGBTQ+ community for it's now 50 years since the first Pride took place in the UK. And as Sovereign strives in its commitment to create a truly diverse workplace which embraces people not just for who they are but their diversity too, Chief People Officer, Sally Hyndman shares why Sovereign is celebrating Pride.
PRIDE month has made me take stock and reflect, so much can be achieved through a single action, an idea, a determination to stand up and make a difference and we can all play a part in that. That's why Sovereign's goal to create a truly diverse organisation really matters.
Our ambition has always been to provide good quality, affordable homes and services, so we must never forget that we're also a social business- that's why we're firmly committed to our fundamental purpose, our customers and the homes they live in. This comes with the huge responsibility to make sure individual housing needs are not impacted by skin colour, disability or sexual orientation, just as they shouldn't be limited by socio-economic factors.
We have the same responsibility to our people and colleagues.
Diversity enriches our experiences as well as our performance and ultimately, what we can do together. So, as a business, we know that to achieve our goals we must do everything we can to create an environment where differences are celebrated, where all our people feel supported and where everyone is valued and respected. And this is key from the top down - equality, diversity and inclusion is the golden thread that runs through our corporate ambitions. That means as we develop and refresh our culture and values it becomes the responsibility of everyone at Sovereign to achieve. To be a landlord and employer of choice, and have customers and employees which reflect the communities we serve, we all need to commit to continuing the journey we've already started.
As a business we've done a lot to ensure we're inclusive of LGBTQ+ people in terms of staff and residents. And over the last two years we've created an LGBTQ+ employee network. This dedicated and very active group of employees have done a fantastic job supporting our work on LGBTQ+ inclusion by creating safe spaces for LGBTQ+ people working at Sovereign, raising awareness through podcasts and intranet articles on subjects such as allyship and use of pronouns and holding events to celebrate LGBT+ History Month, Pride and notable days in the LGBTQ+ calendar such as Pansexual, Intersex and Asexual Awareness days.
Support for LGBTQ+ doesn't stop in our workplace, we've provided funding to projects such as Support U - a leading LGBTQ+ help and support service operating in the Thames Valley/North Hampshire areas, who we gave over £1,400 funding through the Good Exchange during Pride 2021. That grant helped them to provide counsellors and support advisors to support individuals who needed to access to those services online. It also helped them to build capacity ahead of resuming Support U's face-to-face services.
I was in a meeting with Stonewall, the LGBTQ charity, a few weeks ago and was told we're doing some great work, we just need to have more confidence; we need to be bold and have more conviction. They were still really impressed with the solid foundations we're building though and that's an absolute credit to each and every one of our people who are behind our aim to support LGBTQ+ in our communities. So, I hope you'll join us in celebrating Pride this year.
My final thought was of my Mum. She was a woman before her time who taught me from a very early age that everyone is equal and deserves to be treated fairly. She constantly reminded me that we are all different and you can learn a lot from other people's thoughts and experiences. I still follow that advice to this day, and I think we all can.
Change can come from the smallest of actions. We can all show empathy towards someone, sometimes simply by listening or encouraging them to do something they're afraid of because it's not 'mainstream', or it's considered to not be important to most people. Showing our support and understanding, even when others won't commit and we stand on our own, is often the start of great change. That's how Pride started and Stonewall. I doubt Brenda Howard, who started the first Pride protest in New York, knew what a defining moment in history that would be, and how much it would change society and people's lives, she simply did what she knew was right. I think we can all learn from Brenda, and my Mum!
So, at Sovereign we'll continue to work toward being an organisation that embraces inclusion and belonging, with our people, our customers and our communities.
As PRIDE month gets underway let's openly celebrate and encourage everyone to be their authentic selves, so that we can all work in a place that thrives on different perspectives and experiences.
Happy Pride everyone.