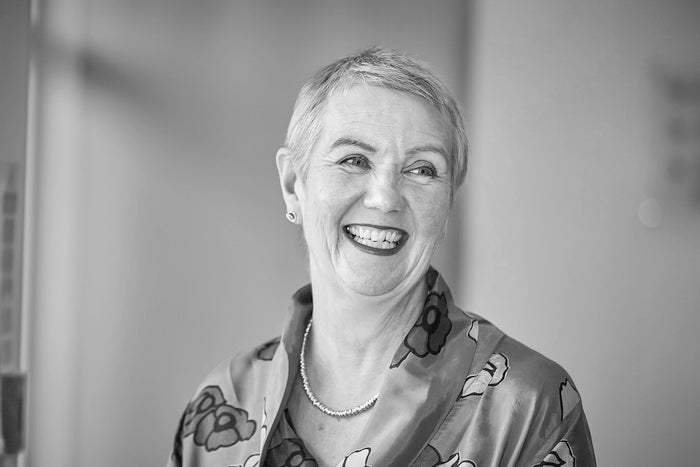 A place to call home is a human right
by Heather Bowman, Chief Operating Officer
7 May 2020
First published in Inside Housing
Barry is not doing too badly in COVID-19 isolation. He's been mowing the lawn, trimming the hedge and checking on his tomato seedlings, which are now more than 12 inches high. He wants to transplant them to gro-bags, but is struggling to source any at the moment.
But other than that, life is good. He's happy in his new home. Really happy. His case worker, Mandy, from Two Saints, our charity partner and his support provider, checks in every day. Barry is one of 16 people that we've helped to find a home, thanks to Housing First, an innovative homelessness solution that originated in the United States, used widely across Scandinavia.
When writing our corporate strategy for 2019-2024, it became incredibly clear to us that as a leading landlord, we needed to do more to use our influence and reach to support the most vulnerable in society. We pledged that we would do more to end homelessness, making a series of commitments over the next five years. We have an ambition to provide
Five new temporary accommodation services
A minimum of 50 Housing First homes
A 'tenancy ready' training module that supports people to approach getting their own home with skills and confidence
Housing First is an initiative that sees people who have been homeless for a long time, often living on the streets, often with complex personal issues, move into their own permanent home with a tenancy agreement and extensive support.
Cutting out the steps in a more usual route where they have to live in hostels and temporary accommodation, working up towards getting their own place, they go straight to a permanent home – with the support that they choose, arranged to suit them.
Barry moved into his one-bed maisonette back in December 2019, his first permanent place to live in more than three years. And thanks to our partnership with West Berkshire Council and charity Two Saints, he's just one of 10 households in the county who've moved into a new place as part of a 'Housing First' agreement. To date, every tenancy is continuing successfully.
We feel so confident in the three-way model of cooperation between us, the local authority and our charity provider, that we've formed similar partnerships on the Isle of Wight, in Basingstoke and Deane, Dorset, Bristol and Swindon. We also shared the news of how we went about creating these Housing First arrangements more nationally, presenting to other organisations and political figures at a recent Westminster Forum Project event.
The strong partnerships that we built have meant that, even during lockdown, we've still been able to find places for people to stay, making a total of 16 Housing First lets across our geography. We've helped three households into homes in the last few weeks, giving them somewhere to isolate safely.
We want to be clear that the commitments we've made to our new Housing First clients will not be undone once 'all of this is over'.
We've provided temporary housing offers now, where permanent accommodation was not available, rather than see people have to go into unsuitable B&Bs. But we will not forget to find our new residents their permanent solutions. Working together with our Housing First partners we will find them the right place to call their own.
Again, this is part of our successful model. We don't just shoehorn people into an available space. We work with them to find the home, in an area that is right for them. Near to their support networks, keeping them steady as they start new lives within their own four walls.
These Housing First successes are hugely satisfying. But this is just one of the ways that we've been supporting vulnerable people during these difficult times. We've also responded quickly to the councils which needed to our use empty homes to accommodate families or individuals for other reasons, giving safe temporary accommodation during this time. We permanently re-housed a family on the Isle of Wight within three days, when a devastating fire took hold, destroying their home of 35 years.
Thanks to funding from our Sovereign Coronavirus Fund, we've also helped Hampshire charity the Yellow Brick Road Project bring the 'You Matter' 'tenancy ready' course entirely online. From advice on paying bills and setting up Direct Debits, to learning how to budget, the course enables potential tenants to prove that they're ready to take on a home. Ultimately, we'd like to see this course accredited by an external body. We're proud that we're still meeting our ambitions even in this time of crisis, looking ahead to 'after' when we start offering lets again.
Our ambitions are broad and bold. But we are well on our way and we are committed for the long term. After coronavirus is over, we don't want to see a return to the status quo. We firmly believe that if people have their own four walls, if they feel safe and secure, then everything else can follow, and we want to be part of making that happen.
Any organisation that would like to know more about forming a partnership to tackle homelessness can contact our Head of Supported Housing, Stephanie Wood on steph.wood@sovereign.org.uk.