Tips for looking after your home
Here's our quick guide to the services in your home – including your electrics, radiators and storage heaters, water supply and dealing with boiler problems or frozen pipes.
Click on the topics below to find out more.
Get advice on
You need to know where your fuse box and mains switch are so you're prepared if your electric supply goes off for any reason. It's a good idea to keep a torch handy in case it's dark when this happens.
Your fuse board will either have fuses or trip-switches. Modern fuse boards are fitted with a circuit-breaker fuse system.
What should I do if my electric goes off?
Check your meter to make sure you're in credit.
If there's a fault, a switch is tripped and the circuit is blown. Older fuse boards have fuse holders and when a fuse blows it must either be replaced, if it's a cartridge, or rewired using special fuse wire of the correct amperage.
If you have a tripswitch, check if any switches on the fuse box have turned to the 'off' position, and reset them to 'on'.
If a fuse continues to trip or blow, this may be due to a faulty electrical appliance. Unplug all of your appliances from their sockets and then plug in each appliance one at a time and switch it on. This way, if the fuse blows again, you'll know you've found the faulty appliance. It's best to get this appliance checked by a qualified electrician, or recycle it if it's beyond repair.
If you can't find a tripped switch (or similar) in the fuse box, check with your neighbours to see if there's been a power cut.
Changing a fuse
Keep fuse wire or replaceable cartridges handy in case a fuse blows. Before replacing a fuse, turn off the electric supply at the isolation switch (this is the main switch on the fuse board). Then replace the fuse with the fuse wire or cartridge.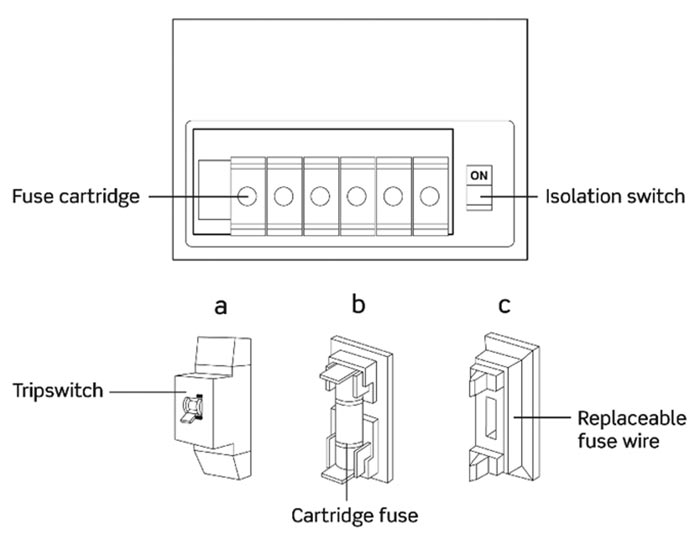 Getting to know your heating and hot water system will help you use it more effectively:
Identify your heating and hot water system's components and controls, and make sure you know how to use them. You can read the instructions provided or contact us if you're not sure.
Most systems have a programmer which allows you to set the time your heating and hot water come on.
Your room thermostat, if you have one, helps to control the overall temperature of your home.
To help prevent condensation, damp and mould, avoid 'cold spots' by having some heating on in all of your rooms.
Radiators
If the top of the radiator is cold but the bottom is warm, there is too much air trapped in the system and you need to bleed your radiator.  Bleeding the radiator releases the air and allows the hot water to fill the whole system and increase the heat it can radiate into the room. 
What you will need to bleed a radiator
You will need a radiator key, available from most DIY shops
Turn off the heating system
You will also need a cloth and bucket or bowl
Step by step
The bleed valve is the smallest square nut at the top of the radiator
Place the key over the valve and have a cloth ready to catch any water
Gently turn the key anti-clockwise. You will hear a hiss as the air is released
When the water starts to be released, turn the key back clockwise to shut off the valve
DO NOT unscrew the valve completely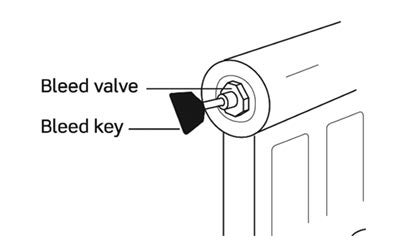 How to get the best out of storage heaters
Storage heaters are designed to heat up at night when electricity is cheaper and then release the heat gradually during the day. Here are a few helpful tips to help you get the best out of your storage heaters:
Keep the grills on your storage heaters closed at night to save as much heat as possible.
When you want to release more heat, open the grills and adjust them to suit your needs.
Avoid using your immersion switch (for extra hot water) as this uses more electricity so it will increase your electricity bills.
Find out where your stopcock is located (it's usually where the water supply enters your home) and test it each year to make sure it works. You do this by turning it off and running the cold tap in the kitchen. The tap should stop running almost immediately. If it doesn't, report the problem to us.
If there's a leak or burst pipe you should shut off the water supply to your property immediately.

Stopcock
How to unblock a sink
The first step when unblocking any sink should be to try a traditional plunger method. A plunger will add and remove air through the pipe to forcefully dislodge any blockage.
What you will need
A dishcloth or small towel
A plunger (you may be able to borrow one from a neighbour if you don't have one)
Step by Step
Start by removing the plug and then cleaning the plughole as best you can, trying to get rid of any debris, grease or grime that has built up around it.
Cover the plughole with water, creating an airtight seal for when you're plunging.
Using a dishcloth or small towel, cover and tightly seal the sink overflow to once again make sure there's an airtight seal for the plunger - you may need to hold the dishcloth to achieve this.
Once you're sure the plughole is tightly sealed, place the plunger over the plughole so that it's completely covered, begin to plunge up and down
See if the water drains easily to test whether or not the sink has been cleared.
If this isn't successful, try using a sink unblocking chemical liquid available from most supermarkets.
Avoid frozen pipes internally
In very cold weather, try to keep some heating on at all times.
If you have a loft hatch, open it to allow some warmth to circulate into the loft.
Look in your loft to check if pipes and tanks are lagged (covered). If they aren't, please tell us.
If you go on holiday or leave your home for a long period during the winter, make sure the heating is on for some of each day, even if it's only for half an hour.
What to do if your pipes freeze
First turn off the stopcock (see above for how to do this).
Direct some heat onto the pipe (a hairdryer is ideal).
If you can't thaw out the pipe, keep the stopcock turned off unless you need water – this will stop you being flooded if the pipes thaw suddenly and burst.
It's dangerous to use your central heating boiler, water heater, back boiler or immersion heater without water. If the hot-water tank is not filling up, or no hot water is coming through the hot taps, it's essential you turn off these systems.
Be prepared for the pipe to thaw – have a bucket or bowl ready to collect any water if the pipe has burst.
It can take a long time for pipes to thaw out. You can use isolation valves (see below) to shut off the water supply to individual outlets – for example the cistern, taps, bath or basin – while keeping a supply to the rest of your home. But this depends on which pipe has frozen.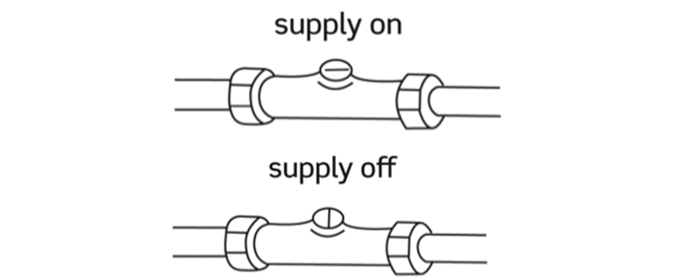 If your boiler stops working in freezing temperatures, this is often caused by the condensate pipe freezing over (this is an outside pipe that's connected to your boiler) .
As this is something you can usually thaw yourself, these tips from Worcester Bosch may help get you back up and running quickly:
Once you've followed their suggestion, you'll need to restart the boiler.
Here are some generic instructions:
In the event of a fault, the blue mains indicator light will flash if there is a fault. To reset the boiler: ► Turn the Central heating temperature knob anticlockwise to the "RESET" position and hold for approximately five seconds and then turn the knob back to the original temperature setting.
Your annual gas safety check and five-year electrical checks help to check your gas and heating systems are in good working order and safe for you to use.
Please visit the safety in your home for tenants or safety in your home for shared owners and leaseholders pages to find out more about fire, gas and electrical safety – including information around using extra heating equipment safely (such as a fire or electric heater).