Yellow Brick Road Projects
Are you aged between 18-35?
Have you applied for a home with the local authority or a housing association but been told you can't be considered because they're concerned you might not be able to sustain a tenancy?
Our work with Yellow Brick Road Projects could help you.
Its Pathway Project helps people develop the skills they need to get and keep a tenancy.
Everyone has their own coach, who guides them through the nine month course.
Below you'll find an outline of what's covered over the weeks – but everyone's experience of the programme will be specifically tailored to them, so their journey on the programme is personalised to what they need.
What's covered
You'll work with your coach on a 1-2-1 basis, focusing on money and housing.
Topics include:
budgeting
prioritising bills
understanding financial terms
understanding a tenancy
rights and responsibilities of a tenancy
fire safety
Once this is completed, you'll receive a Laser Learning Laser Level 1 accreditation.
You'll join a Zoom group with other participants and the focus on life and future.
You'll cover:
CV writing and personal statements
SMART goal setting
healthy relationships
protecting yourself and others
mental health and coping mechanisms
sexual health
online safety
local support organisations
Guest Speakers from a range of organisations will join the Zoom groups to share what services they offer and how learners can access them now or in the future.
As well as this, you'll have a 30 minute check in session with your coach every week.
At the end of these weeks, you'll receive a second Laser Level 1 accreditation.
You'll continue to receive 1-2-1 support from your coach and spend time looking at the areas you want to focus on.
This could include revisiting budgeting, applying for work, studying or volunteering.
The goal is that you'll be closer to having a housing association tenancy, and are engaging with things like volunteering, studying, working, accessing counselling and are feeling more confident.
Meet Abi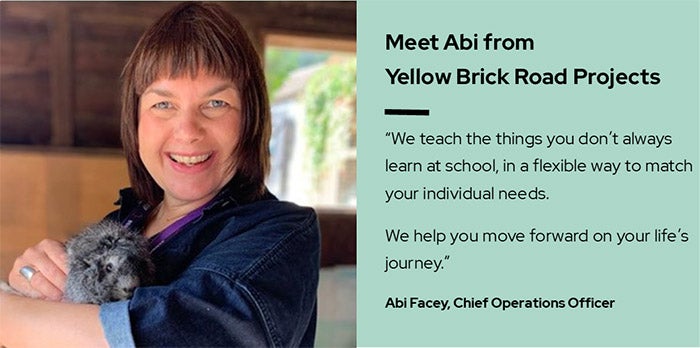 Abi Facey is from Yellow Brick Road Projects and is the first person you'd speak to if you applied for the programme.
She explains her experience, what she does and why she thinks the Pathway Project is so beneficial to helping people get ready for a tenancy:
I am the link between Sovereign and Yellow Brick Road Projects' coaches.
I make the initial contact with anyone thinking about the programme and help them fill in their nomination form.
I really enjoy this part of my role, as I love speaking to people across the country and feel privileged when they share their stories with me. I have regular check ins with Sovereign to discuss how the project is developing and how we can all best support people.
My background is in youth work and I have worked with Yellow Brick Road Projects for five years. I have a passion for supporting young people and getting their voices heard.
Everyone's reason for doing The Pathway Project is different. I think it's an opportunity to make a difference to your own life and move forward on your life's journey through developing the skills you need to get and keep a tenancy.
We teach the things you don't always learn at school, in a flexible way to match your individual needs.
Interested in finding out more?
Please email us with your details and one of our friendly Sovereign Lettings Officers will get in touch with you.