Sovereign's support for inspirational homeless charities
20th November 2020
Sovereign Housing Association is proud of the support they provide through the Sovereign Thriving Communities Fund, a partnership with Crowdfunder UK to deliver funding to projects which make a difference to the lives of their residents, and the communities in which they live.
For National Safeguarding Adults Week, Monday 16 November – 21 November, Sovereign are highlighting the impressive work some of these charities do to support homeless projects and the impact they are making for those most in need.
As a leading social housing landlord, Sovereign recognises the importance of having a home and the difficulties faced by so many to find one. With over 60,000 affordable homes and award-winning supported housing initiatives to their name, they are creating positive and quality spaces for communities to flourish.
Michelle Smith, Head of Communities for Sovereign, said: "We're committed to supporting local charities and community groups to give those who are homeless and socially excluded the power to turn their lives around with the right support.
"The impact homelessness charities have in helping those who are highly vulnerable during the pandemic has been outstanding. I'm proud of the part we've played to assist with vital funds to enable these charities to deliver new ways of working and continue to provide essential services, raising money through the 'Crowd' matched by the Sovereign Thriving Communities Fund."
Case Studies
Cafe Kino
Bristol based Cafe Kino, a non-for-profit business operating out of Stokes Croft, is a safe and open space for everyone. They offer basic services for the homeless including a 'suspended coffee' system, which allows a customer to purchase something for someone in need while buying something for themselves.
Cafe Kino were forced to shut during lockdown and ran a crowdfunding campaign, supported by the Sovereign Thriving Communities Fund, to ensure their reopening on the other side. They received 302 pledges and raised £13,258 from the Bristol community, who simply donated or purchased a 'suspended coffee or meal' to be distributed to someone in need and redeemed by themselves later, including £4,750 pledged from Sovereign Thriving Communities Fund
Emmaus Bristol
Emmaus Bristol provides a home, support, training and work experience to people who have experienced homelessness.
Emmaus Bristol has three shops selling second-hand clothes, furniture and household goods, providing meaningful work experience for companions (formerly homeless adults) as well as vital funds for the charity. With their shops closed for lockdown, Emmaus Bristol used crowdfunding as a way of selling furniture and gaining donations.
"Sovereign pledged £3,500 which will go on furniture vouchers for their new residents who don't have much in the way of household items. We were so thrilled at this boost to our crowdfunder, and the opportunity to help those who have just been housed. It's a great fit with our values". Xanne Carey, Social Enterprise Manager, Emmaus Bristol
Emmaus is currently crowdfunding and has raised over £10,000 from 100+ supporters, including a £3,500 pledge from Sovereign Thriving Communities Fund.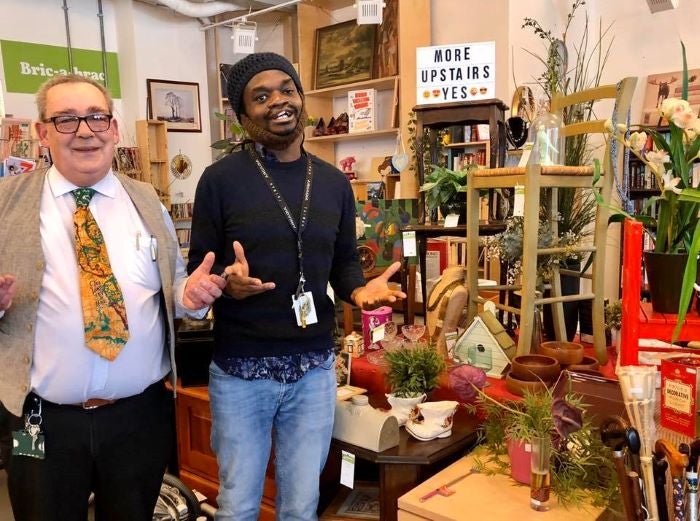 Bristol Refugee Rights – Support for Refugees
Bristol Refugee Rights (BRR) was set up in 2006 with the aim of upholding and championing the human rights of asylum seekers and refugees'. Their Welcome Centre in St Paul's, 'regularly welcomes 100 asylum seekers and refugees each day, from up to 60 different countries'. During coronavirus, they cannot stay open and instead offer their support over the phone, with their staff and volunteers making over 100 calls to families each day.
These families need to be able to access a phone or computer. In May BRR raised over £18,000 on Crowdfunder UK to provide 'vital services and tech aid for asylum seekers and refugees facing destitution, homelessness and isolation during Covid-19'. The BRR received support from 222 people including a £5,000 pledge from the Sovereign Thriving Communities Fund.
The Sovereign Thriving Community Fund has so far backed over 20 different projects, you can see them here and find out more about the +Extra funding available.
If you've got a community project that's based within 3 miles of a Sovereign Housing development, you may be eligible for up to £10,000 in +Extra Funding.