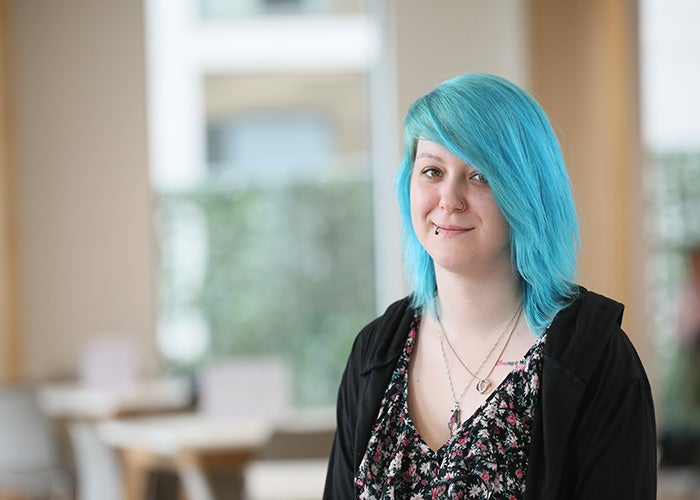 Meet our Kickstarter Caitlin Sweeney
Mum of one Caitlin has a background in retail, but a few years out of the world of work looking after her daughter left her feeling low in confidence, and uncertain how to break into a different kind of employment. Kickstart offered her an opportunity to work part time and get a taste for the kind of opportunities that were out there.
She said: "I was given the opportunity to go through the Kickstarter scheme, which helped me to secure an interview with Sovereign, by video call, which was very unusual, but actually the most comfortable interview process I've ever been through, with a comfortable atmosphere and a more fun, relaxed approach.
"For me getting a job was crucial, as it gave me a chance to meet new people and learn new skills. Housing wasn't something I had ever considered, but the role intrigued me, as it was something completely new.
'Being a PR assistant is both fascinating and terrifying, but I'm always up for a challenge! And although I was extremely nervous, when I started, my new manager helped ease me into the role.
'The role is a hybrid one, which means that I have a desk set up at home, but can also visit the office. The first day 'in real life' was very exciting as I got to go into Sovereign House and work in an office environment, something I'd never done before. There must be a lot of things that those who have office jobs take for granted that Kickstart has helped me get to grips with, like using Excel, Powerpoint, email, Teams – all of this was unfamiliar to start off with.
"I've also learnt so much about what goes on behind the scenes in a press office and I know that my role is intrinsic to the smooth running of the department. I can now upload and send out press releases, I understand the importance of maintaining good data in order to be able to present what's been done and the impact it's made, I recognise the different ways that new stakeholders and audiences can be contacted. And that's only the half of it!
"Going forward I want to get everything I can from my extension at Sovereign. I'm keen to work in mental health, to support others with their housing journey, so I'm hoping to start shadowing in the supported housing team. Having learnt so much with the PR team, I'm confident I can learn about another department too.
"Sovereign is a very welcoming organisation. One of the things I have struggled with is anxiety. But every morning we have a check in and if I don't feel up to a face-to-face chat – something that's happening less and less now, my manager sets me tasks I can get on with in my own time. This flexible approach to working has also allowed me to ease into finding childcare and working around my daughter and the school holidays. It's really opened my eyes to the way that work can be. If there is trust between you and your manager, your employer, work really can flex around your life, and that's an amazing thing."