Home Planet Club
A new club for people who want to help the environment.
Why?
Now more than ever we need to take care of the world around us. Our planet doesn't have infinite resources and we need to work together to ensure the survival of the planet for future generations.
Sounds like a big aim, but if everyone took a few small actions that would soon add up. Whether it's recycling more, switching to energy saving lightbulbs, swapping the car for walking or cycling or growing your own fruit and vegetable, lots of little actions will make a huge difference.
Being "green" doesn't just help the planet but can have a positive impact on the bank balance too. Just thinking about how we spend our money can help us think about the environment too; for example instead of buying water in plastic bottles, invest in a reusable bottle and refill it for a fraction of the cost, whilst reducing the amount of plastic that ends up in our oceans.

New club
The Home Planet Club is a free club aimed at raising awareness of environmental issues and bringing people together to work towards a greener future. It will help support you on your journey to becoming more environmentally aware and empowered to tackle local issues in your communities.
Home Planet Club benefits include:
Access to a year-long programme of activities and information linked to the seasons and nature
Quarterly e-newsletter (posted on Facebook)
Connecting with like-minded people across Sovereign geography and in your local area
Support and information from your local Community Development Officer to help you grow connections and take environmental action where you live.


Connect with Home Planet Club
Visit our Facebook Page and search for #HomePlanetClub. You'll find our latest posts.
We'd love to hear from you.
You can post about your own environmental activities to our Facebook page (use #homeplanetclub) or you can send your news and pictures to homeplanetclub@sovereign.org.uk – you could even find your activities in our newsletter (we'll obviously ask permission first).
Find out what the Home Planet Club have been up to
Home Planet Club have been posting regularly on Facebook since July and we hope you're finding the information useful.
The posts you liked the most were the ones about free seeds, sunflowers and the bee drinker.
We've been working hard on future content but if there are topics you'd like us to talk about, please let us know by emailing homeplanetclub@sovereign.org.uk.
We've had a very busy few months here at Home Planet Club HQ (aka Sovereign's Communities Team), getting involved in lots of fantastic environment projects across the business. Here are a few highlights of some of the resident-led projects we've been involved in:
Isle of Wight
On the Isle of Wight we supported the Community Food Forest (CFF) in Newport with a grant of £1000 to purchase new tools, equipment and seating for the community growing space. CFF grows and supplies fresh produce to the local Foodbank and run projects with local residents and schools. Run by local volunteers, it serves the whole community and invests in training and learning.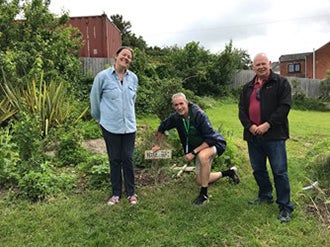 One of our ground maintenance contractors. Ground Control, held a Biodiversity Day for residents on the island which was fantastic. Becky, our Community Development Officer, also helped launch the new Isle of Wight Repair Café with £800 seed funding from Sovereign Communities. The Café encourages residents to get their stuff repaired for free at monthly sessions, avoiding landfill and saving the pennies. We've had everything brought in from threadbare socks to coffee machines, bikes, shredders and kitchen cupboards.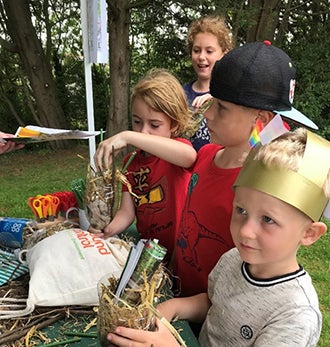 Oxfordshire
In Abingdon we did a large programme of environment improvements at Fountain Court, one of our schemes for older people, providing new seating, a new shed and planting as well as a good tidy up. This was as part of the Sovereign Your Community Your Choice programme.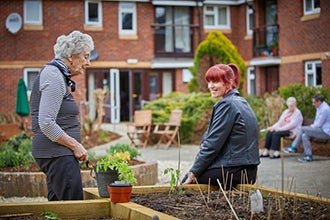 Somerset
In Bristol, Daisy, our Community Development Officer, has been working with a number of groups to deliver a number of great projects. She supported zero-waste Bristol delivery service Oat Float with a £5,000 grant through our Your Community Your Choice programme. Part of the funding was given so Oat Float could run free environmental workshops in the local community.
One of the workshops that took place was a Children's Forest School, in partnership with Bristol Forest School. The school was for children aged between 5 and 11 - they enjoyed woodland games, marshmallow toasting, nature mandalas (pictured) and more.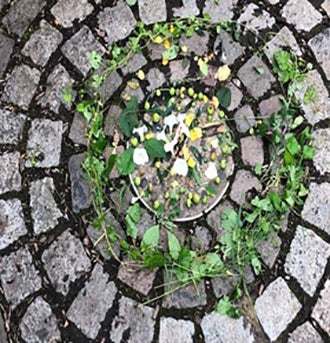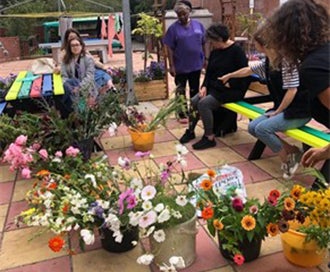 All of the children who took part said they felt more belonging to their community and significantly more confident.
Projects on the go
We currently have 33 environment projects running across the business and over 40 more planned for this year. Everything from green space regeneration, to schools workshops and allotments, cycling sessions, tree planting, growing and edibles projects, and gardening groups.
New project
We'll be launching a new online activity in the New Year called "Eco Challenge". Run by Groundwork UK, Eco-Challenge is made up of a range of engaging challenges and residents will be able to access the challenges through a mobile friendly website. These will range from energy saving to learning how to grow fresh food from waste that would otherwise be thrown away. The aim of these activities is to create long-term environmentally conscious habits, and many are fun for all ages, to inspire the whole household to go green. There will be prizes too for winners!
Ideas from you
If you'd like to know more about any of our projects or have a project in mind that you'd us to know about, please email us homeplanetclub@sovereign.org.uk. We're always keen to support new projects and ideas.